Friday, 06 March 2009 18:30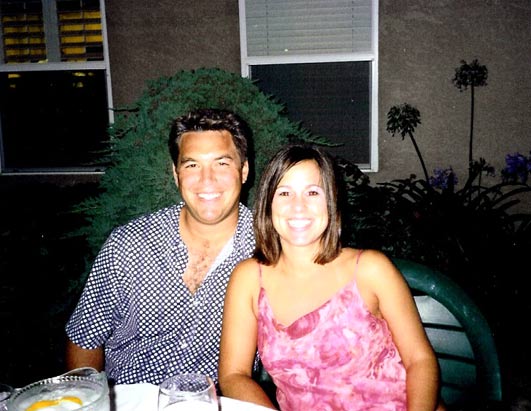 Laci Denise Rocha
Born: May 4, 1975, Modesto, California, United States
Died: (p) December 2002, Modesto, California, United States
Age: 27
Cause of death: Her decomposed body was found decapitated,  forearms missing,  right foot gone, and the left leg from the knee down was missing.
Notable because: Seemingly ideal husband Scott Peterson brutally killed his 7.5 Month pregnant wife and baby whilst still having the energy to conduct an affair.  Gave rise to Unborn Victims of Violence Act, which is widely known as Laci and Conner's Law.
Laci Peterson was the subject of a highly discussed murder case after she went missing while seven and a half months pregnant with her first child. Laci was reportedly last seen alive on December 24, 2002. Her husband, Scott Peterson, was convicted of murder in the first degree for Laci, and in the second degree for their unborn son. Scott is currently on death row at San Quentin Prison.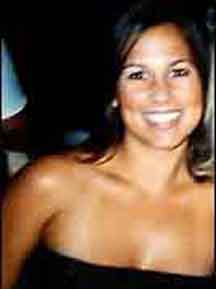 Laci Denise Rocha was born in Modesto, California. Her parents, Dennis Robert Rocha and Sharon Ruth Anderson, met in high school and married shortly after graduation. Their first child, Brent Rocha, was born in 1971. Laci was the couple's second child, born in 1975. Her parents separated after Laci's first birthday. Dennis later remarried and had another daughter, Amy. Laci grew up visiting her father's dairy farm in Escalon, CA, and she was a cheerleader in junior high and high school. After graduating from Thomas Downey High School, Laci attended California Polytechnic State University. At Cal Poly, she majored in ornamental horticulture. She hoped someday to open a specialty plant shop. She lived with boyfriend Kent Gain, but the couple later broke up. While at Cal Poly, Laci met Scott Peterson at a small restaurant in Morro Bay called Pacific Café. In December 1996, Scott and Laci became engaged, and they married on August 9, 1997, a few months before Laci's graduation. For the first two years or so of their marriage, they delayed trying to have children, but Laci began to express interests in starting a family. In December 2000, they decided to try for a pregnancy. Becoming pregnant took longer than expected, and on the verge of scheduling fertility tests, Laci and Scott Peterson conceived naturally in May 2002. It was later reported that Scott said, when asked how he felt about the pregnancy, that he had "hoped for infertility." Sharon Rocha stated in her book that she did not think Laci knew about this. The baby was due on February 10, 2003, and the couple planned to name their son Conner Latham Peterson. 
Apart from her husband, the last people known to have spoken to Laci before she disappeared were her half-sister, Amy Rocha, who cut Scott's hair and showed Laci how to style her hair on the evening of December 23, 2002 at Salon Salon. That same evening, Laci's mother, Sharon Rocha, talked to her on the telephone shortly thereafter, around 8:30 pm. Shortly after 10:00 am the following morning, a neighbor found the family dog, a golden retriever named McKenzie, running loose in the neighborhood, wearing a collar and a muddy leash. The neighbor then returned McKenzie to the yard. Laci's 1996 Land Rover Discovery SE sport utility vehicle was in the driveway, and her Louis Vuitton purse, containing her keys and cell phone, was hanging in the bedroom closet.
When Scott Peterson returned home from either fishing or golfing that evening, Laci was not there. He washed his clothes, ate some cold pizza, took time to clean up the kitchen, and took a shower. At that point (roughly 5:15 pm), he called Sharon Rocha to ask if Laci was with her. When Sharon told Scott that Laci wasn't there, Scott said, "Laci's missing." Sharon would later say that she knew in her heart something horrible had happened to her daughter. Scott stated that when he left that morning, Laci was watching an episode of Martha Stewart, and planned to walk the couple's dog, McKenzie, in nearby East La Loma Park. However, Scott would later change his story by telling Sharon he last saw Laci curling her hair the way her sister showed her the night before.
Laci's parents called the police at 6 pm. A search of the park and surrounding areas immediately ensued. It was highly out of character for Laci to leave without a word. Police, family members, friends, and neighbors searched widely on foot, in all-terrain vehicles, patrol cars, and sport utility vehicles, with helicopters equipped with search lights and heat sensors, and with water rescue units, search dogs, and horseback teams. Law enforcement agencies from several counties became involved. Police suspected foul play, doubting that Laci would vanish on Christmas Eve without contacting anyone. At a press conference, detective Al Brocchini said, "That is completely out of character for her."
A $25,000 reward was offered, later increased to $250,000, and finally to $500,000 for any information leading to her safe return. Posters, blue on yellow ribbons, and fliers circulated, and the LaciPeterson.com website was launched. Friends, family, and volunteers set up a command center at nearby Red Lion Hotel to record developments and to circulate information, and over 1,000 volunteers signed up to distribute information and to help search for Laci. Critics alleged that this was another example of missing white woman syndrome, and that other cases of similar caliber (primarily that of Evelyn Hernandez) were being ignored by the media and the community.
On April 13, 2003, a couple walking their dog discovered the decomposing but well-preserved body of a late-term male fetus on the San Francisco Bay shore in Richmond's Point Isabel Regional Shoreline park, north of Berkeley. One day later, the body of a recently-pregnant woman, wearing cream-colored maternity pants and a maternity bra, washed to shore one mile away from where the baby's body was found. The woman's cause of death was impossible to discern due to decomposition; the body was decapitated, the forearms were missing, the right foot gone, and the left leg from the knee down was missing. Later reports from the medical examiner revealed that there were injuries, two cracked ribs, that happened at or about the time of death. DNA tests verified that they were the bodies of Laci Peterson and her son. Mother and fetus had not been separated by coffin birth, as had been speculated. Rather, Laci's upper torso had been emptied of internal organs and allowed for the fetus to pass through a perforation in the top of the decomposing uterus.
From the start, Scott Peterson was reluctant to talk to the press; at one point, he stormed out of a family press conference when reporters asked if the police considered him a suspect. Laci's brother, Brent Rocha, defended Scott, claiming that Scott was too distraught to make public statements about Laci, and adding that that did not mean he was involved in her disappearance. "No way," Rocha said. "Absolutely not." Laci's family maintained Scott's innocence, and volunteers said that he joined their efforts at the command center every day.
It was later revealed that Scott Peterson had had numerous extramarital affairs, one of which Laci knew about, but the most recent with a massage therapist named Amber Frey, a single mother from nearby Fresno. The affair began after Scott met a woman, Shawn Sibley, at a trade convention where he represented his company, TradeCorp, and told her he was single and "looking." He joked that he should put "Horny Bastard" on his name tag to help him meet women. Though Sibley was attached, she thought Peterson would be a good match for Frey, a friend of hers. She set them up on a blind date in mid-November 2002. Frey informed police of her relationship with Peterson shortly after seeing news of Laci's disappearance on TV, and agreed to record their phone calls. She informed them that, a few weeks before Laci's disappearance, on December 9, Peterson had told her that he was a widower and that these would be his first holidays without his wife.
Scott Peterson was arrested on April 18, 2003 in La Jolla, California in the parking lot of a golf course, where he claimed to be meeting his father and brother for a game of golf. At the time of his arrest, Peterson was carrying $15,000 in cash, had four cell phones, camping equipment, a gun, a map to Frey's workplace that had been printed the day before, Viagra, and his brother's driver's license. His hair and goatee had been dyed blonde. The police took this as an indication that Peterson had planned to flee, possibly to Mexico.
During Scott Peterson's trial, audio recordings of Peterson and Amber Frey's telephone conversations were played, and the transcripts were publicized. The recordings revealed that in the days after Laci went missing, Peterson continued to call Amber on a regular, almost insistent basis. In one of the calls recorded, Peterson claimed to be celebrating New Year's Eve in Paris, at the Eiffel Tower, with friends named Francois and Pasqual. He said the crowd was "huge." He called Amber "Sweetie" and sounded happy, even excited. In reality, he was attending Laci's New Year's Eve candlelight vigil during the course of that telephone call to Amber. 
The death of Laci and her unborn son led to the United States Congress passing the Unborn Victims of Violence Act, which is widely known as Laci and Conner's Law. On April 1, 2004, Sharon Rocha and her common-law husband Ron Grantski were in attendance at the White House when President George W. Bush signed the bill into law.
In late 2005, a Stanislaus County judge ruled that Peterson was not entitled to collect on his late wife's $250,000 life insurance policy, having been convicted of her murder. Under California state law, criminals may not profit from insurance policies. On December 19, 2005, the money was given to Laci's mother, Sharon, as the executor of Laci's estate.. The California Court of Appeal (Fifth District) later affirmed the trial court's decision on October 31, 2007.

In 2006, Sharon Rocha wrote For Laci : A Mother's Story of Love, Loss, and Justice a biography and memoir about the life and death of her daughter. All proceeds are used to fund the Laci and Conner Search and Rescue Fund, which Sharon Rocha had founded.

Many observers of the unfolding case have drawn parallels between the murder of Evelyn Hernandez and that of Laci Peterson, as both were murdered late into their pregnancy, their mutilated torsos lacked heads, and parts of their limbs were both found in the San Francisco Bay.

Scott Peterson's attorney, Mark Geragos, suggested at one point that the two pregnant women could have been murdered by a ritualistic Satanic cult, pointing out the way both women's bodies were decomposed and the location where both bodies were found.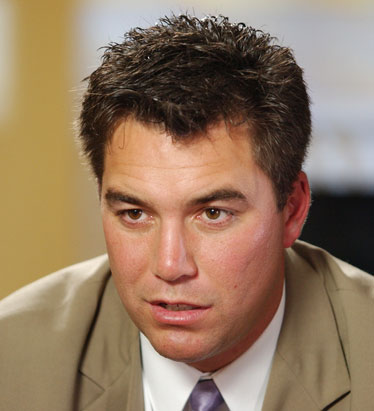 On September 20, 2006, former Congressman William E. Dannemeyer sent a letter to Attorney General Bill Lockyer pointing out that both Laci and Evelyn disappeared on satanic holy days, and that they both ended up in the San Francisco Bay with their hands, feet, and heads missing.
A brief mention of Laci appears on gospel artist Kirk Franklin's CD Hero. On the song "Why?" (collaborated by Kirk and Stevie Wonder), one of the lyrics goes "Why, oh why, did Laci have to die?"
Scott Peterson is on death row at San Quentin State Prison. He will likely go through several years of appeals before he is executed.
 
On December 24, 2002, Laci Peterson was reported missing from their Modesto, California home. She was eight months pregnant with a due date of February 10, 2003, and the couple had planned to name the baby, a boy, Conner Peterson. The exact date and cause of death of Laci was never determined. Peterson initially reported his wife missing on Christmas Eve, and the story quickly attracted nationwide media interest.
The Modesto police did not immediately identify Peterson as a prime suspect, largely because Laci's family and friends maintained their faith in his innocence during the initial month after Laci's disappearance. However, it was then that police grew more suspicious of him due to inconsistencies in his story. On January 17, it became known that Peterson had numerous extramarital affairs, most recently with a massage therapist named Amber Frey. She had requested police assistance when she became suspicious that the man she had just begun to date had not been honest with her after she learned that he was actually married to a missing woman. At this point, Laci's family announced that they withdrew their support of Peterson. They later said that they were angered not by the affair, but that Peterson had told Frey that he'd "lost" his wife and that he would be spending his first Christmas without his wife—15 days before Laci disappeared. To the Rochas, this meant that Peterson had already planned to kill Laci long before her disappearance.
Frey became a key witness in the case against Peterson when she agreed to let the police tape their subsequent phone conversations in hopes of getting him to confess. Despite this, Peterson was not recorded making any confession to Frey.
Frey told the police that two weeks before Laci's disappearance, Peterson had implied to her that he was a widower by saying that he had "lost his wife." During the trial, the audio recordings of Peterson and Frey's telephone conversations were played
, and the transcripts were publicized. Their contents proved to be both revealing and, ultimately, damning to Peterson's character. For example, they revealed that in the days after Laci went missing, Peterson claimed to Amber that he had traveled to Paris to celebrate the holidays, in part with his new companions Pasqual and François. In reality, Peterson made one of these phone calls while attending the New Year's Eve candlelight vigil in Modesto for his missing wife.

On April 14, 2003, a male fetus washed ashore from San Francisco Bay in Richmond's Point Isabel Regional Shoreline, north of the Berkeley Marina, where Peterson had been boating the day of Laci's disappearance. The next day, a partial female torso missing its hands, feet, and head washed ashore in the same area. The body was identified as Laci Peterson, the fetus as Laci's. Autopsies were performed, but due to decomposition the specific cause of death could not be determined. The medical examiner did note that Laci had suffered some broken ribs (the 5th, 6th, and 9th ribs) prior to her death; these injuries were not caused by the body dragging along the rocks in the bay. Prosecutors theorized that Laci may have been suffocated or strangled  in the couple's home. The FBI and Modesto Police Department performed forensic searches of the couple's home, Peterson's truck, the tool box in the back of his truck, his warehouse, and his boat. The only piece of forensic evidence identified was a single hair, thought to belong to Laci, found in a pair of pliers from Peterson's boat.

Peterson was arrested on April 18, 2003 in La Jolla, California, in the parking lot of the Torrey Pines Golf Course, where he said he was meeting his father, brother, and Zak O'Regan for a game of golf. At the time of his arrest, Peterson was in possession of the following non-golf specific items: approximately $15,000 in cash; four cell phones; multiple credit cards belonging to various members of his family; an array of camping equipment, including knives, implements for warming food, tents and tarpaulins and also a water purifier; a dozen pairs of shoes; several changes of clothing; a t-handled double-edged dagger; a MapQuest map to Frey's workplace (printed the previous day); a shovel; rope; 24 blister packs of sleeping pills; Viagra; and his brother's driver's license. His hair and goatee had been dyed blond, although he claimed the lighter hair color was the result of chlorine from swimming in a friend's pool. (The pool's owner later testified that, to his knowledge, Peterson had never swam in his pool, or made use of his hot tub.)
Last Updated on Thursday, 26 August 2010 08:54