Monday, 10 November 2008 09:51
Born 15 August 1964, Devizes
Died: 15 March 2007 Hatfield Peverel in Essex
Age: 42
Cause of death: Acute alcohol intoxication
Notable because: Two of her children died within a few weeks of birth. She was arrested for their murder found guilty and sent down. The image of her face when she was released after more than three years in prison affected many who saw her on Television leaving the Court. Described as 'one of the greatest miscarriages of British justice' after specialist Roy Meadow pointed his expert finger at her, she died broken hearted less than 4 years after her release. Roy Meadow remains the object of revulsion by many.
Sally Clark was a British lawyer. She was the victim of a miscarriage of justice; her convictions in 1999 for the murder of two of her sons were quashed in 2003.
Clark's first son died suddenly within a few weeks of his birth in 1996. After her second son died in a similar manner, she was arrested in 1998 and tried for the murder of both sons. Her prosecution was controversial due to statistical evidence pres
ented by paediatrician Professor Sir Roy Meadow, who testified that the chance of two children from an affluent family suffering Sudden Infant Death Syndrome (also known as cot death in Europe or crib death in North America) was 1 in 73 million, which was arrived by squaring 1 in 8500 for likelihood of a cot death in similar circumstance. In an unusual intervention, the Royal Statistical Society wrote to the Lord Chancellor saying there was "no statistical basis" for Meadow's conviction.

Clark was convicted in November 1999. The convictions were upheld at appeal in October 2000, but after she had served more than three years of her sentence, they were quashed in a second appeal in January 2003, and she was released from jail. Journalist Geoffrey Wansell called Clark's experience "one of the great miscarriages of justice in modern British legal history." She was found dead in her home on 16 March 2007

An only child, she was born as Sally Lockyer in Devizes. Her father was a senior police officer with Wiltshire Constabulary and her mother was a hairdresser. She was educated at South Wilts Grammar School for Girls in Salisbury. She studied geography at Southampton University, and worked as a management trainee with Lloyds Bank and then at Citibank.
She married Steve Clark, a solicitor, in 1990, and she left her job in the City of London to train as a solicitor. She studied at City University, London, and trained at Macfarlanes, a city law firm. She moved with her husband to join the law firm Addleshaw Booth & Co in Manchester in 1994. They bought a house in Wilmslow in Cheshire.
Her first son, Christopher, was born on 22 September 1996. Apparently a healthy baby, he was found dead in his cot at 11 weeks old on 13 December. Suffering from post-natal depression, she consoled herself with alcohol; after counselling at the Priory Clinic, she was in recovery by the time her second son, Harry, was born on 29 November 1997, three weeks premature. However, he was also found dead at eight weeks on 26 January 1998. On both occasions, she was at home alone with her baby, and there was evidence of trauma, which could have been related to attempts to resuscitate them.
She and her husband were both arrested on 23 February 1998 on suspicion of murdering their children. On the advice of her lawyers, she twice refused to answer questions, and was charged with two counts of murder. She always denied the charge, and was supported throughout by her husband. She gave birth to a third son in 1999.
She was tried at Chester Crown Court, before Mr Justice Harrison and a jury. The prosecution was controversial due to the involvement of the paediatrician Professor Sir Roy Meadow, who testified at Clark's trial that the chance of two children from an affluent family suffering cot death was 1 in 73 million. He likened the probability to the chances of backing an 80-1 outsider in the Grand National four years running, and winning each time.
She was convicted by a 10-2 majority verdict on 9 November 1999, and given the mandatory sentence of life imprisonment. She was widely reviled in the press as the murderer of her children. Despite recognition of the flaws in Meadow's statistical evidence, the convictions were upheld at appeal in October 2000. She was imprisoned at HMP Styal, near her home in Wilmslow, and then HMP Bullwood Hall in Hockley in Essex. The nature of her conviction as a child-killer, and her background as a solicitor and daughter of a police officer, made her a target for other prisoners. Her husband left his partnership at a Manchester law firm to work as a legal assistant nearer the prison, selling the family house to meet the legal bills from the trial and first appeal.
Later, it came to light that microbiological tests showed that Harry had colonisation of staphylococcus aureus bacteria, suggesting that her second son may have died from natural causes, but the evidence had not been disclosed to the defence. This evidence had allegedly been known to the prosecution's pathologist, Alan Williams, since February 1998, but had not been shared with Clark's defence team. This evidence was unearthed by the divorce lawyer Marilyn Stowe, who provided her services free of charge because she felt "that something was not right about the case". Dr Williams was found guilty of serious professional misconduct by the General Medical Council in June 2005, for a number of reasons but particularly for his incompetent postmortems on both babies. Dr Williams appealed this decision to the High Court but in November 2007, the High Court upheld the General Medical Council's ruling of serious professional misconduct. 
It also became clearer that the statistical evidence presented at her trial was seriously flawed. Her case was referred back to the Court of Appeal by the Criminal Cases Review Commission, and she was released from jail in January 2003, after serving over three years of her sentence. Her convictions were formally quashed in a second appeal in January 2003.
Her case led to a wide-ranging review of hundreds of similar cases. Two other women were cleared of similar charges.
According to her family, she was unable to recover from the effects of her conviction and imprisonment. After her release, her husband said that she would "never be well again." She was unable to read John Batt's book based on her case, Stolen Innocence: A Mother's Fight for Justice. In 2005, Meadow was struck off the medical register by the General Medical Council for serious professional misconduct, but he was reinstated in 2006 after he appealed.
Clark was found dead in her home in Hatfield Peverel in Essex on 16 March 2007. It was originally thought that she had died of natural causes, but an inquest ruled that she had died of acute alcohol intoxication, though the coroner stressed that there was no evidence that she had intended to commit suicide.
The case has been much criticised because of the way statistical evidence had been misrepresented in the original trial, particularly by expert witness Sir Roy Meadow, former Professor of Paediatrics at the University of Leeds. He stated in evidence as an expert witness that "one sudden infant death in a family is a tragedy, two is suspicious and three is murder unless proven otherwise" and that the chances of two Sudden Infant Deaths in the same affluent, non-smoking family were 1 in 73 million. This figure came from the "Confidential Enquiry for Stillbirths and Deaths in Infancy" (CESDI), an authoritative and detailed study of deaths of babies in five regions of England between 1993 and 1996. The original report states that the chances of a randomly chosen baby dying a cot death are 1 in 1,303. If the child is from an affluent, non-smoking family, with the mother over 26, the odds fall to around 1 in 8,500. The authors go on to say that if there is no link between cot deaths of siblings then we would be able to estimate the chances of two children from such a family both suffering a cot death by squaring 1/8,500 - giving the figure of 1 chance in 73 million quoted by Meadow in court.
However, it should be noted this calculation is based upon a very strong assumption, namely the independence of deaths between siblings; it would not apply if there were to be a common cause of death, for example, if unknown environmental factors or a genetically inherited defect were a contributory factor in the deaths. No evidence of independence was presented as evidence and more recent work by Professor Raymond Hill of the Mathematics Department of the University of Salford suggests that independence is unlikely. The chances of a family which has already had a cot death having a second cot death are estimated by Hill to be around 1 in 100, not 1 in 8,500, therefore the probability that the Clarks would have two sons die of SIDS are 1/8500*1/100=1/850,000.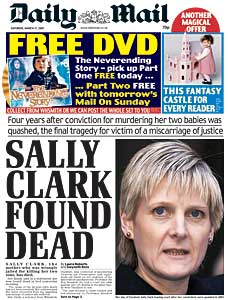 Furthermore, if the chances of a double cot death are relevant to assessment of guilt then the chances of a double murder are also relevant and should have been presented and compared. Even if the probability of two instances of SIDS were as low as 1 in 73 million, it is not unlikely to have occurred to some family in the country. In October 2000, the Royal Statistical Society wrote a letter to the Lord Chancellor and issued a press release which pointed out some of the problems, while the appeal judges concluded "...it seems likely that if this matter had been fully argued before us we would, in all probability, have considered that the statistical evidence provided a quite distinct basis upon which the appeal had to be allowed."
Last Updated on Wednesday, 16 June 2010 09:11