Thursday, 21 June 2012 09:59
Thomas Lloyd "Tom" Maynard
Born: 25 March 1989
Died: 18 June 2012
Age: 23
Cause of death:
Notable because: Handsome 23 year old, 6 ft 3 in, professional cricketer, with a great future, gets in his car at 4 am one Monday when clearly he shouldn't have been driving,  gets stopped by police, and in the course of running away, was found at 5 in the morning on the Wimbledon Park station railway tracks.
Tom Maynard was a Welsh cricketer who played for Surrey. A right-handed batsman and right-arm off break bowler, he was the son of former Glamorgan and England batsman Matthew Maynard.
Born in Cardiff, Maynard attended Whitchurch High School and Millfield School and made his way up the ranks with Glamorgan, starting in the county's Under-17s side at the age of 15. By the time he was 16, he had reached the Glamorgan 2nd XI and was playing for the Wales Minor Counties team.
Maynard made his debut for the Glamorgan First XI on 10 June 2007, playing in a Friends Provident Trophy match against the Gloucestershire Gladiators at Colwyn Bay. He hit 71 runs off 75 balls, including seven fours and three sixes before being caught and bowled by Mark Hardinges. After batting second, Gl
amorgan lost by six runs. Maynard's Twenty20 Cup debut soon followed, as he played in Glamorgan's three-run defeat to the Warwickshire Bears on 24 June 2007; he scored 11 runs before being caught by Tim Ambrose off the bowling of Heath Streak. His first-class debut finally came two months later on the third day of a County Championship match against Somerset. No play was possible on the first two days of the match, so Maynard's debut ended up being restricted to just one innings, in which he scored 15 runs before being caught by Craig Kieswetter off Steffan Jones. He also bowled two overs in the Somerset innings, conceding 18 runs.
After his debut, Maynard's seasonal first-class batting average increased from 11.66 to 22.60, with an overall average of 15.33 and a top score of 51 not out. His Twenty20 average has also increased from 8.66 to 14.57, with an overall average of 12.45, but his List A average remained fairly constant at around 35, except for a drop to around 21.5 in 2008. In both 2009 and 2010 he scored one List A century.
Maynard signed a three-year deal to play for Surrey before the 2011 season. The season saw a big improvement in his batting. In 16 first-class matches he scored 1,022 runs at an average of 40.88. He made his first three centuries, with a highest score of 141. In 14 List A matches (of which one was played in Scotland) he scored 515 runs at an average of 39.62. In one of these matches, on 4 September, he hit a 50 off just 28 deliveries.  In 15 Friends Life t20 matches he scored 392 runs at an average of 43.55.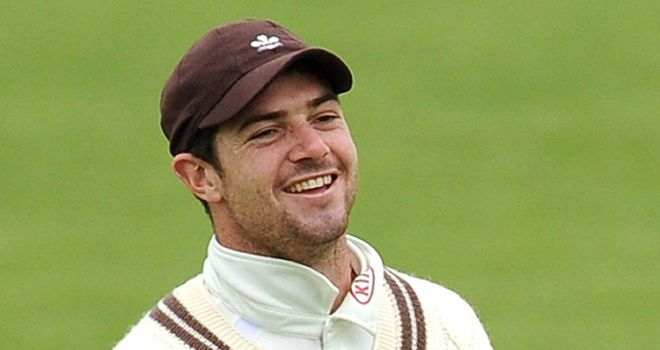 He was selected for the England Lions 2011-2 tour to Bangladesh, playing in three List A games with little success, and five Twenty20 games in one of which he scored 68.
In 2012 he continued to perform well for Surrey. He scored 635 runs in eight first-class matches, averaging 45.35. He scored one hundred, his career best of 143. In five List A matches he averaged 39.33. The day before his death, Maynard hit 7 runs off 17 balls in a loss to Kent Spitfires in the Friends Life t20, his only appearance in the competition in the 2012 season.
At approximately 05:00 BST on 18 June 2012, Maynard was killed when he was hit by a London Underground District Line train on the line near Wimbledon Park Station in south London. According to British Transport Police, his death is being treated by authorities as "non-suspicious".
Maynard's car had been stopped by police at around 4am, when they saw it being driven erratically. Maynard fled the scene, and his body was found near the tracks at 5.10am.
Manufacturer: Encyclopedia Britannica, Inc.
Offers - Buy New From: $7.50
Used From: $1.89
Buy Now
Editorial Review: Tom Jones is a foundling discovered on the property of a very kind, wealthy landowner. Tom grows into a vigorous and lusty, yet honest and kind-hearted, youth. He develops affection for his neighbour's daughter, Sophia Western. On one hand, their love reflects the romantic comedy genre that was popular in 18th-century Britain. However, Tom's status as a bastard causes Sophia's father and Allworthy to oppose their love; this criticism of class friction in society acted as a biting social commentary.
Reviews
Manufacturer: Baseball Cards
Amazon Price: $0.91
Buy Now
Editorial Review: 1992 Classic/Best 141 Tom Maynard
Reviews
Amazon Price: $1.99
Offers - Buy New From: $1.99
Buy Now
Reviews
Manufacturer: Concord Records
Offers - Buy New From: $13.15
Used From: $2.99
Buy Now
Editorial Review: TOM GARLING - MAYNARD FERGUSON PRESENTS.. - CD
Reviews
Manufacturer: Inspired Perceptions
Buy Now
Editorial Review: It is safe to say at the very least, that the Bible is a fascinating book. A book full of many true tales, even struggles and disappointments, along with much information intended to help people grow and mature in their relationship with God.

This particular take on the book of Job is written to help understand the lessons than can be learned from Job's life, as well as a better understanding of the character and nature of God Himself, by taking a look at the oldest book in the Bible, from a different angle. When we do so, we will see things we never would have seen without changing the lens we view this incredible story through.
Reviews
Last Updated on Thursday, 21 June 2012 10:15