Wednesday, 13 April 2011 14:00
Pierre Eugène Alfred Bouillin
Born: 22 December 1905, Paris
Died: 11 June 1955, Le Mans
Age: 49
Cause of death: Motor accident at Le Mans.
Notable because: His Mercedes crash in the 55 Le Mans race led to 82 fatalities.
Pierre Eugène Alfred Bouillin was a French sportsman and racing driver. He took the racing name Pierre Levegh (pronounced le-VECK) in memory of his uncle, a pioneering driver who died in 1904. Levegh is mainly remembered for a disaster that killed him and around 80 spectators during the 1955 24 Hours of Le Mans automobile race.
Levegh was also a world-class ice hockey and tennis player. In motorsport he competed in Formula One for the Talbot-Lago team in 1950 and 1951, starting six races, retiring in three, and scoring no points.
At Le Mans he raced for Talbot in four races, finishing fourth in 1951. In 1952, driving single-handedly, his car suffered an engine failure in the last hour of the race with a four lap lead. This failure was probably caused by a missed gear change due to driver fatigue. In 1953 he came in eighth, and in 1954 he was involved in an accident in the seventh hour of racing.
In 1955 he was tempted away from Talbot and joined the American John Fitch in racing a Mercedes-Benz 300 SLR. In the third hour of racing, while on the Tribunes Straight, he clipped the Austin-Healey of Lance Macklin that was forced to make an evasive move after Mike Hawthorn dived into the pits. After hitting an earth bank, the car flew through the air, disintegrating, scattering components into the crowd. Levegh was killed when he was thrown from the car and his skull crushed by the impact. Flying parts and a fire killed 82 spectators, while over 100 were injured. The race was continued in order to prevent the spectators from leaving, which would have blo
cked all access roads and the ambulances.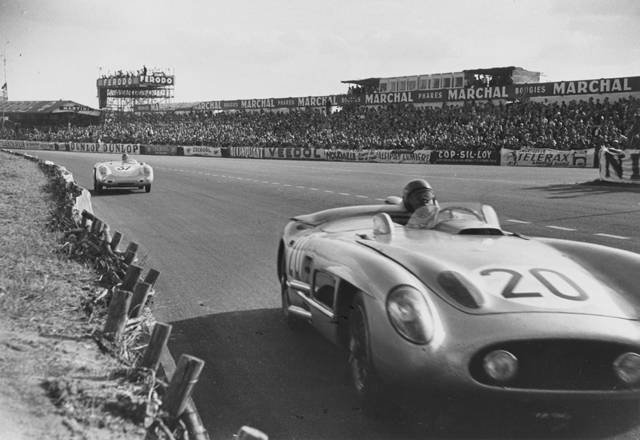 Though Levegh was unable to save himself, he may have saved the life of five-time Formula One world champion Juan Manuel Fangio behind him. Fangio always maintained that a hand-signal from Levegh, a moment before he struck Macklin's car, was the deliberate warning that had saved his life, although others commented that the 49 year old Levegh's reaction times were simply not fast enough to avoid the swerving Macklin.
While Mercedes withdrew from the race as a sign of respect to the victims (and later from motor racing in general for the next 30 years), Mike Hawthorn and Ivor Bueb continued in their Jaguar to win the race. The accident was a major contributor to changing attitudes about the acceptance of danger in motor racing and an increase in the desire to make courses safer for spectators and drivers alike. The small British firm of Bristol Cars, whose entrants achieved a 1-2-3 finish in the 2-litre class at Le Mans that year, decided to abandon racing altogether as a result of the tragedy, scrapping all but one of their racing cars. Fitch became a safety advocate and began research into automotive safety, some of which have advanced into motorsport.
Levegh is buried in the Pere Lachaise Cemetery in Paris.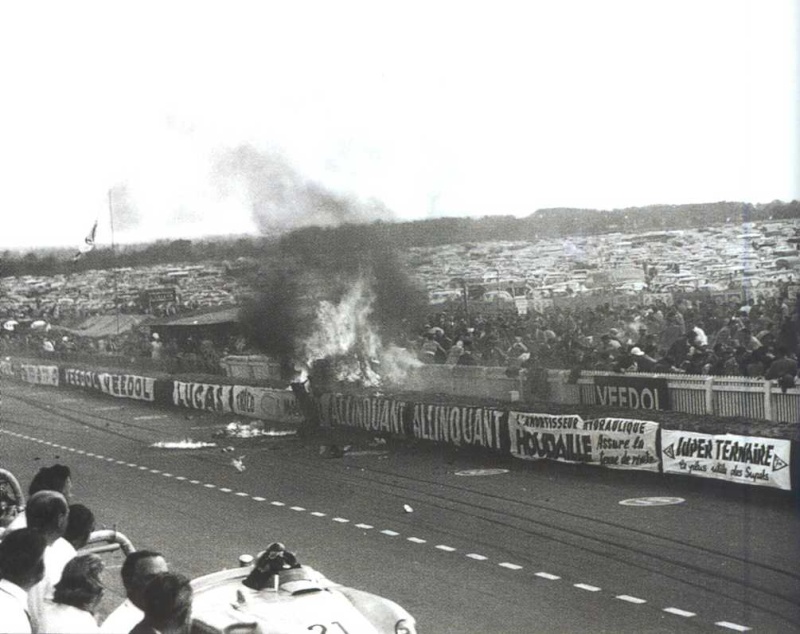 Manufacturer: Goldenlane Records
Amazon Price: $0.99
Offers - Buy New From: $0.99
Buy Now
Reviews
Amazon Price: $41.00
Buy Now
Editorial Review: MEMPHIS PRESS SCIMITAR, Tennessee, June 13, 1955 * 24 Hours of Le Mans auto race * Pierre Levegh crash disaster The sport's section (page 18) has a two column heading: "Death Toll Reaches 79 at French Track" with subhead. (see) Coverage on the infamous 24 Hours of Le Mans disaster. It still stands today as the worst disaster in all of motor sports. Other news, sports and advertisements of the day. Complete in 28 pages, binding holes along the spine/1st column, otherwise nice.
Reviews
Last Updated on Wednesday, 13 April 2011 14:09