Saturday, 23 October 2010 14:46
Father Lawrence Murphy
Born: 192, Ireland
Died: 1998, Wisconsin
Age: 74
Cause of death: Natural causes
Notable because: Ran and taught at a school for the deaf where he was accused of abusing 200 deaf boys in his care over a 24 year period. His abuse was covered up leading to charges being brought against the current Pope.
In March 2010, an article in the New York Times stated that Vatican officials, including then Cardinal Joseph Ratzinger (now Pope Benedict XVI), did not respond to credible allegations of serious sexual abuse of boys by defrocking the accused priest. Several U.S. bishops had warned the Vatican that failure to hold a church trial and defrock the priest could embarrass the church. Murphy is believed to have molested up to 200 deaf boys before the mid-1970s. Murphy was elderly and seriously ill when the first question related to the allegations reached the Vatican, two decades after the abuse occurred. Local law enforcement agencies also knew about the abuse and did nothing.
Murphy taught at the former St. John School for the Deaf in the Milwaukee suburb of St. Francis, Wisconsin from 1950 to 1974. After the allegations were made, Murphy was moved by then Milwaukee Archbishop William Edward Cousins to Superior, Wisconsin, a small city near Lake Superior, where he spent his final 24 years working in parishes, schools and a juvenile detention center. Murphy died in 1998, several months after he requested that the Vatican halt a canonical trial against him because of his ill health.
Critics have alleged that former archbishop Rembert Weakland covered up, or at least failed to publicize, some of the abuse, in particular by overseeing an evaluation in 1993 of Murphy. Weakland twice wrote in 1996 about the case to Cardinal Ratzinger, Prefe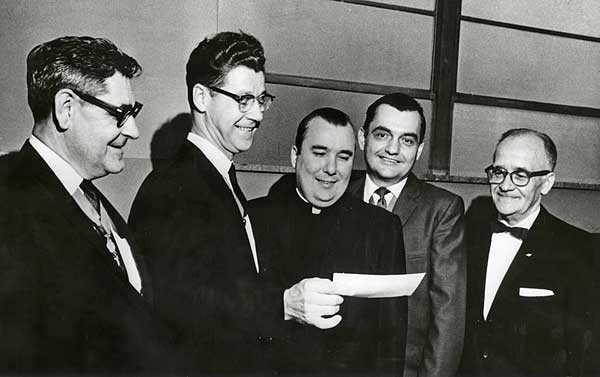 ct of the Congregation for the Doctrine of the Faith, but received no reply. Cardinal Bertone instructed Wisconsin bishops to start a canonical trial that could have resulted in a range of punishments, including defrocking. Later, the formal church trial was dropped because a church statute of limitations had been exceeded, and because Murphy was elderly and in poor health. The Congregation suggested the archbishop instead punish Murphy by imposing penance and restricting his public ministry. Laicization would have released Murphy from nearly all obligations of priesthood, including the obligation to perform any penance ordered by his bishop. Archbishop Weakland said, "The evidence was so complete and so extensive that I thought he should be reduced to the lay state", and complained that the Vatican tribunals moved too slowly.
As of March 2010, there were four outstanding lawsuits against the Archdiocese of Milwaukee in the case.
The emotional scars remain years later for victims of Father Lawrence Murphy, a priest who molested generations of youngsters in the US Midwest state of Wisconsin. Donald Marshall, who was abused by Murphy when he was a teenager at a juvenile detention centre, said: "I haven't stepped in a church for some 20 years. I lost all faith in the Church."
Arthur Budzinski was abused at a school for the deaf in the city of St Francis, in the Milwaukee Diocese. Murphy taught at the school from 1950 to 1974, and even became director , despite the allegations.
Mr Budzinski said the priest would come to their dormitory at night and molest the deaf pupils. He was first molested by Murphy when he was 12, and was deceived by his "friendliness". "If he was a real mean guy, I would have stayed away," said Mr Budzinski, using sign language interpreted by his daughter. "But he was so friendly, and so nice ... I knew he was wrong, but I couldn't really believe it." One of the lawyers involved in the case said: "Instead of removing him from the priesthood, they just gave him a free pass."
Documents show that the Archbishop of Milwaukee then, the Most Rev Rembert Weakland, warned Cardinal Tarciscio Bertone that Murphy had "no sense of remorse" and did not seem to realise the gravity of what he had done. He told the cardinal that three psychologists had concluded that Murphy was a "typical" paedophile who saw himself as "a victim".
In the documents, the victims describe how Murphy "touched" them in his office, in his car, his mother's house, on class excursions, on fundraising trips and in their dormitory beds at night.
Three successive bishops of Milwaukee were told that Murphy was abusing children. Yet he was quietly moved to the Diocese of Superior in northern Wisconsin in 1974, where he remained active in parishes, schools and the juvenile detention centre, where Mr Marshall lost his faith. Murphy died in 1998 of natural causes.
Manufacturer: Leo Brown
Amazon Price: $30.60
Offers - Buy New From: $30.60
Buy Now
Editorial Review: Vivid Decorative Painting Without Stretch ,Gentile da Fabriano - Madonna and Child, with Saints Lawrence and Julian, 1423-25, is for Home Decoration, or Wall Art Decoration, Home Decor. There are fiber canvas, cotton canvas, or linen canvas. And it is also the best gift for your relatives, or girl friend and boy friend.
Reviews
Offers - Buy New From: $10.90
Buy Now
Editorial Review: This short sleeve t-shirt is sturdy yet comfortable. Using superior-quality fabric that reduces shrinkage, lasts longer and provides greater comfort.
Reviews
Manufacturer: GaryBrown
Amazon Price: $25.54
Offers - Buy New From: $25.54
Buy Now
Editorial Review: High quality Prints on Canvas Without Stretch and Without Frame ,Thomas Lawrence,Mrs.William Lock of Norbury,1829, is the best gift for your relatives, or girl friend and boy friend. That is also for Bar, Basement, Bathroom, Bedroom, Dining Room, Foyer, Game Room, Garage, Gym, Hallway, Home Office, Home Theater, Kids Room, Kitchen, Laundry Room, Living Room, Nursery, Powder Room, Study decor and Art Decoration
Reviews
Amazon Price: $1.99
Offers - Buy New From: $1.99
Buy Now
Reviews
Amazon Price: $2.99
Offers - Buy New From: $2.99
Buy Now
Reviews
Last Updated on Tuesday, 12 June 2012 09:33