Friday, 31 October 2008 14:12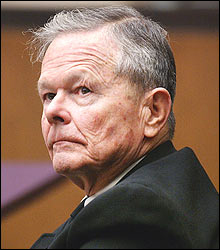 John J. Geoghan


Born: 1935

Died: August 23, 2003, Shirley, Massachusetts

Age: 67

Cause of death: Beaten to death in prison cell. 'ligature strangulation and blunt chest trauma.'

Notable because:  Over thirty years of church work was accused of sexual child abuse 130 times. Prison officials housed him with a White Supremacist who gave notice of his killing intentions in advance.  

John Geoghan was a key figure in the Roman Catholic sex abuse cases that rocked the Boston Archdiocese in the 1990s and 2000s, and eventually led to the resignation of Boston's archbishop, Cardinal Bernard Francis Law, on December 13, 2002.

Geoghan was a graduate of Cardinal O'Connell Seminary, and was ordained in 1962.

He was assigned successively to Blessed Sacrament parish, Saugus; St. Bernard's parish, Concord; St. Paul's parish, Hingham; St. Andrew's parish, Jamaica Plain; St. Brendan's parish, Dorchester; and finally St. Julia's parish, Weston.

With each new assignment, he was eventually moved to another parish following accusations of child molestation. He was unsuccessfully treated for his pedophilic sexual impulses by psychoanalysts and psychotherapists in private practice, as well as at St. Luke's Institute, Maryland; the Institute of Living, Hartford; and Southdown Institute, Ontario.

He eventually took up residence at the Regina Cleri residence for retired priests.

Over a 30-year career in six parishes, Geoghan was accused of sexual abuse involving more than 130 children. Charges were brought in Cambridge, Massachusetts, concerning accusations of a molestation that took place in 1991. Geoghan was defrocked in 1998. He was found guilty in January 2002 of indecent assault and battery for grabbing the buttocks of a 10-year-old boy in a swimming pool at the Waltham Boys and Girls Club in 1991, and was sentenced to nine to 10 years in prison.

The trial included testimony from the victim; from a psychiatrist, Dr. Edward Messner, who treated Geoghan for his sexual fantasies about children from 1994-1996; and from Archbishop Alfred C. Hughes, who testified that he banned Geoghan from the swimming club after a complaint that he had been proselytizing and had had prurient conversations there.

After initially agreeing to, and pulling out of, a $30 million settlement with 86 of Geoghan's victims, the Boston archdiocese settled with them for $10 million, and is still negotiating with lawyers for other victims. The most recent settlement proposed is $65 million for 542 victims. The settlements are being made because of evidence that the archdiocese had transferred Geoghan from parish to parish despite warnings of his behavior. Evidence also arose, as a result of allegations against Geoghan, that the archdiocese displayed a pattern of shipping other priests to new parishes when allegations of sexual abuse were made.

Two other cases were charged against Geoghan in Boston's Suffolk County. One case was dropped without prejudice when the victim decided not to testify. In the second case, two rape charges were dismissed by a judge after hotly contested arguments because the statute of limitations had run out. The Commonwealth's appeal of that ruling was active at the time of Geoghan's death, and remaining charges of indecent assault in that case were still pending at that time.

On August 23, 2003, while in protective custody at the Souza-Baranowski Correctional Center in Shirley, Massachusetts, Geoghan was trapped in his cell, strangled and stomped to death by Joseph Druce, a self-described white supremacist and fellow inmate already serving a sentence of life without possibility of parole for killing a man who allegedly made a sexual pass at him after picking Druce up hitchhiking. An autopsy revealed the cause of death to be "ligature strangulation and blunt chest trauma."
The state immediately began an investigation into procedures at the prison. There have been questions raised about the wisdom and propriety of placing these two men in the same unit, since prison officials had been warned by another inmate that Druce had something planned. It was noted that while two guards are normally stationed in the unit where Geoghan and Druce were being held, there was only one guard in the unit at the time - one had left temporarily to escort another inmate to a medical station. Union officials had noted that there were staffing cuts previously at the prison, which they feel led to the prison being a more dangerous and volatile place.
It has also been suggested that Druce had been offered money to kill the priest, or that Druce thought he would gain prestige from fellow prisoners for doing so. A Worcester, Massachusetts jury found Druce guilty of first-degree murder on January 25, 2006. This was after the Jury rejected his insanity defense. During the trial Druce was seen with a black eye he received from an individual who surprised him in his cell. The man who had surprised Druce was reported to have been wearing corrections officer pants, suggesting a reprisal by prison staff for the embarrassment surrounding Geoghan's murder.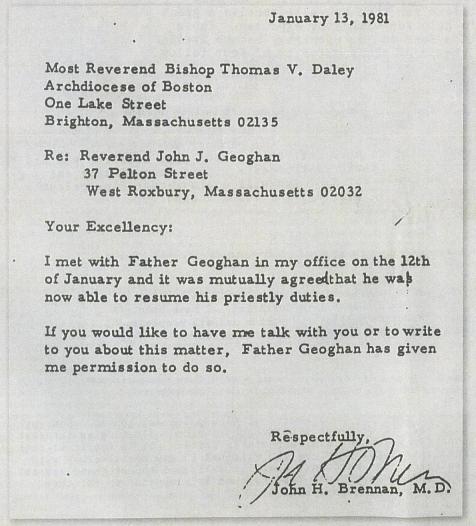 In June 2007, the Boston Herald received a handwritten letter signed "Joseph Lee Druce", stating ""The truth about officer involvement in John Geogan's (sic) death," along with the address www.youtube.com/JosephDruce. The address contained a video taken by security cameras inside of Souza-Baranowski Correctional Center, made during the murder. The 10 minute video shows the attempts made by correctional officers to open the cell door (as many as 5 pulling at one time). Eventually the door is opened, officers extract Druce, and medical personnel enter the cell. However, inmates at Souza-Baranowski do not have Internet access. Department of Correction officials are currently investigating who posted the video, as it is from an internal security camera.
At the time that Druce killed Geoghan, he was already serving life without possibility of parole for killing a man who allegedly made a sexual pass at him after picking Druce up hitchhiking.
Last Updated on Wednesday, 14 January 2009 10:49