Friday, 03 August 2012 14:24
Shafilea Iftikhar Ahmed
Born: 14 July 1986, Bradford, West Yorkshire
Died: September 2003, Warrington. Cheshire.
Age: 17
Cause of death: Murdered by Iftikhar Ahmed, 51, and Farzana Ahmed, 48.

Notable because: British born to Pakistani Muslim parents, 17 year old who wanted to become a lawyer and embrace a life without Islamic subjugation and who found her parents preferred to see her dead before allowing apostasy. An 'honour killing' without the honour of admitting it. Both denied their guilt in court.

Shafilea Iftikhar Ahmed was a British girl from Great Sankey, Warrington, Cheshire, who was murdered by her parents when she was seventeen years old.
Shafilea Ahmed was born in Bradford, West Yorkshire. A student who wanted to become a lawyer, Ahmed swallowed bleach during a trip to Pakistan in 2003, in what was later reported to be a suicide attempt. Her father claimed that she drank it during a power cut, thinking it was a bottle of fruit juice. According to a wide range of media reports after her disappearance, Shafilea turned down a suitor in an arranged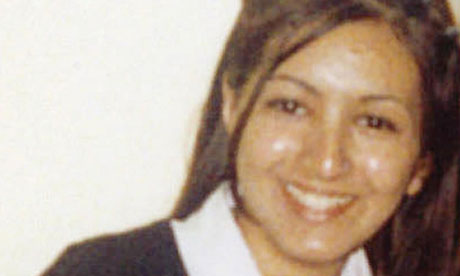 marriage during the trip, though her parents denied any attempts to pressure her into agreeing to the marriage.
Police then learned that shortly before her disappearance Shafilea had traveled to Pakistan where she rejected an arranged marriage partner and had swallowed bleach, badly scarring her throat - an injury which required constant medical attention when she returned home.
Shafilea disappeared on 11 September 2003, and had been missing for a week before her teachers informed the police. Subsequently, there was a major campaign to urge people who had any information to come forward. Actress Shobna Gulati was persuaded to front the media campaign, and read some of her poems on television.
"A nationwide hunt was launched but when Shafilea failed to seek treatment for her damaged throat detectives became convinced she had been murdered - possibly in an "honour killing" connected with her rejection of her Pakistani suitor." Supt Geraint Jones told the Mirror: "Her family say a suitor had been found for her in Pakistan but she was free to make her own decisions."
In February 2004, Ahmed's corpse was found in the River Kent near Sedgwick, Cumbria, in proximity to Kendal in the Lake District, 70 miles (110 km) away from Warrington. After heavy flooding in the area, police said the corpse was deliberately hidden; a gold "zi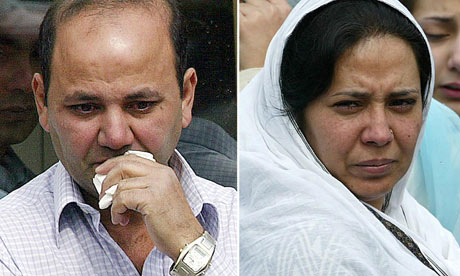 gzag" bracelet and blue topaz ring found with the body were identified by her parents. Due to decomposition, the cause of death could not be determined by the coroner (Home Office pathologist Alison Armer) at post mortem, leaving the police to believe that it had probably been there since the day she disappeared or not long after. Shafilea's body was also found to have been dismembered (a femur was found). Detective Sergeant Mike Foster stated at a hearing, "The pathologist could not determine the cause of death, but did say the body was that of a young female. Obviously, because of the condition of the body, she was unable to give any further findings."
A second post mortem ordered by South Lakeland Coroner Cyril Prickett was ordered, but failed to add anything further.
Inspector Mike Forrester of Cumbria Constabulary at an inquest hearing stated "It was unclear whether all of Shafilea's body parts had been found." He went on to state that "DNA tests on the right thigh bone of the body found on the east bank of the River Kent made it a one in a billion chance that the remains were those of anyone other than Shafilea." The lower jaw of the body found was also shown to Shafilea's dentist, who said he was 90% sure that it was hers after examining dental work that had been carried out on it.
Shafilea's parents, Iftikhar Ahmed, a taxi driver, and Farzana Ahmed, were released without charge after briefly having been arrested along with five other members of her extended family.
There were several poems written by Shafilea that interested the police in their investigations, notably "I Feel Trapped". The poem is said to reflect Shafilea's utter despair and emotional state, describing a hopeless life, a family that ignored her, and that she had run away from home several times in the past due to tensions with her family.
"She has been reported missing twice before and been found staying with friends," said a neighbour, Sheila Costello. "We heard they had an argument over an arranged marriage and that Shafi had run away. I hope nothing terrible has happened to her."
Cheshire Constabulary investigated the murder of Shafilea, and after three years had not established a suspect, although eight members of her extended family are awaiting trial for conspiracy to pervert the course of justice in relation to the case. There is still confusion regarding the exact events of the trip she made to Pakistan.
In January 2008, the coroner's inquest held that Shafilea was the victim of a "very vile murder", having been taken from her home. The verdict was unlawful killing. Solicitor Milton Firman made an impassioned plea on behalf of the parents when they were first arrested and the police were about to hold a press conference. Shafilea's family left the inquest without making any comment.
After the inquest Shafilea's parents attempted unsuccessfully to have the verdict of unlawful killing overturned and replaced by an open verdict; Iftikhar Ahmed argued that the coroner's view was 'biased'.
Ahmed's younger sister Alesha arranged a robbery that took place at her parents' house on 25 August 2010 during which she, her brother, sisters, and parents were in the house. She was arrested and told police that her parents killed Ahmed.
On 7 September 2011, Cheshire Police announced that Shafilea's parents, Iftikhar Ahmed, 51, and Farzana Ahmed, 48, of Liverpool Road, Warrington, had been charged with her murder. Their murder trial began in May 2012. They were convicted on 3rd August 2012.they were found guilty on the 3rd of August 2012
.............
The parents of Shafilea Ahmed have both been sentenced to life imprisonment with a minimum term of 25 years after being found guilty of murdering their 17-year-old daughter.
The jury delivered its verdict at Chester crown court after a three-month trial and almost nine years after Shafilea was killed for defying her parents' wishes for an arranged marriage in Pakistan to a much older man.
Iftikhar Ahmed, a 52-year-old taxi driver, and his wife, Farzana, 49, from Warrington, Cheshire, had vehemently denied any involvement in their daughter's death at the family home on 11 September 2003, but the jury disagreed with their account of events.
As the verdicts were delivered after two days of deliberations, Shafilea's brother Junyad and sister Mevish cried in court, as did a younger sibling who cannot be identified for legal reasons. Initially the Ahmed parents remained impassive in the dock, but Farzana Ahmed began crying as she was led out of court, and her husband turned and swore at police officers sitting nearby.
The prosecution's barrister, Henry Riding, said that the two parents acting together had killed their child. "They were her parents and responsible for her care and wellbeing," he said. "In September 2003, she was in a weakened state [after drinking bleach]."
Shafilea's best friend, Melissa Powner, said: "We have waited for this day for many years. We have watched as her killers roamed free. Yet today we heard those important words – words that have finally brought our friend the justice she deserves.
"Shafilea was a caring, high spirited and brave young lady who even in her toughest times always strived to remain positive and hopeful that one day she too would be able to live the peaceful and happy life that she deserved."
The judge, Mr Justice Roderick Evans, had earlier urged the jury to put aside feelings of sympathy and revulsion when considering the case and to discuss the evidence coolly and calmly.
Shafilea's badly decomposed remains were found on a flooded bank of the river Kent in Sedgwick, Cumbria, five months after her disappearance, in February 2004. The jury agreed with the prosecution's assertion that she had been killed by her parents because they believed she had brought shame on the family as the result of her desire to lead a "westernised" lifestyle. In the six months before her death, Shafilea drank bleach during a family trip to Pakistan in an apparent cry for help.
The prosecution's key witness was Shafilea's 24-year-old sister, Alesha, who said she and her siblings had witnessed the murder at the family home. She said Farzana issued the command in Urdu: "Just finish it here," as her parents forced a plastic carrier bag into Shafilea's mouth and placed their hands over her it, blocking her airways as her father held her down. Alesha said Shafilea's eyes were wide open in horror and she was kicking her legs in protest. She realised her sister was dead when her legs stopped kicking. "That was it, she was gone," she told the court. She recalled seeing her father punching her sister's lifeless body in the chest after the killing. Later, she watched her mother prepare sheets, binbags and rolls of tape in the kitchen. She looked out of a window and saw her father carrying a heavy package, which she assumed was Shafilea's body.
Iftikhar Ahmed denied any involvement in Shafilea's death, maintaining she ran away from home in the middle of the night and he never saw her again. But midway through the trial, his wife changed her account of events and said her husband was responsible for a single, violent attack on Shafilea on the night of her disappearance. Her husband, she claimed, told her to never ask him about Shafilea again "if she cared for her dear life" and those of her children. However, the jury failed to be convinced by the couple's version of events and found them both guilty of murder.
Buy Now
Editorial Review: This book is dedicated to all those who have endured forced marriage and honour violence.
Reviews
Manufacturer: Virgin Digital
Buy Now
Editorial Review: In 1998, Sarbjit Athwal was called by her husband to attend a family meeting. It looked like just another family gathering. An attractive house in west London, a large dining room, two brothers, their mother, one wife. But the subject they were discussing was anything but ordinary. At the head of the group sat the elderly mother. She stared proudly around, smiling at her children, then raised her hand for silence. 'It's decided then,' the old lady announced. 'We have to get rid of her.'

'Her' was Surjit Athwal, Sarbjit's sister-in-law. Within three weeks of that meeting, Surjit was dead: lured from London to India, drugged, strangled, and her body dumped in the Ravi River, never to be seen again.

After the killing, risking her own life, Sarbjit fought secretly for justice for nine long, scared years. Eventually, with immense bravery, she became the first person within a murderer's family ever to go into open court in an honour killing trial as the Prosecution's key witness, and the first to waive her anonymity in such a trial. As a result of her testimony, the trial led to the first successful prosecution of an honour killing without the body ever being found.

But her story doesn't end there. Since the trial, her life has been threatened; her own husband arrested after an allegation of intimidation. Shamed is a story of fear and of horror – but also of immense courage, and a woman who risked everything to see that justice was done.
Reviews
Manufacturer: Cutting Edge Press
Buy Now
Editorial Review: Su, a Thai bride, comes to England, after the tsunami, armed with a book called 'My Beautiful England'. But she finds herself in Burnley, a deprived northern town where torn sofas are parked in the gardens of boarded up houses. Living with her ageing husband, Su tries to become Englishised, but constant visions of the tsunami and Thai superstitions clash with English life. Whilst out shopping for mango, Su suffers racial abuse and realises England is not the dream place she had hoped for.

Samina is from Pakistan and feels trapped in an arranged marriage. Living with her new husband and domineering mother-in-law, in Paradise Street, she longs to be like other western women, independent and free. When Samina joins the local language school, she begins to wear western clothes and calls herself Sammy but soon realises that she is neither English, nor Pakistani.

Lenka lives in a women s refuge with her daughter, hiding from her Polish husband.

Together the three women build a strong friendship at the local language centre. United in their quest for English all three women discover what it's like to be a foreigner in England.
Reviews
Last Updated on Friday, 03 August 2012 14:42