Thursday, 10 February 2011 13:25
Tim Kretschmer
Born: 26 July 1991, Leutenbach, Germany
Died: 11 March 2009, Wendlingen, Baden-Württemberg, Germany
Age: 17
Cause of death: Suicide. Bullet to head.
Notable because: Unhappy teenager who went on a killing spree at his former school, killing 15.
The Winnenden school shooting occurred on the morning of 11 March 2009 at a secondary school in Winnenden, Baden-Württemberg, in southwestern Germany, followed by a shootout at a car dealership in nearby Wendlingen. The shooting spree resulted in 16 deaths, including the suicide of the perpetrator, 17-year-old Tim Kretschmer, who had graduated from the school one year earlier. Several people were also injured during the incident.
In the Albertville-Realschule at approximately 9:30 a.m. (CET), Tim Kretschmer first began shooting with a 9mm Beretta semi-automatic pistol which he had taken from his parents' bedroom. Eyewitness reports state that Kretschmer started on the first upstairs floor where he made a beeline for two top-floor classrooms and a chemistry laboratory. In these two classrooms Kretschmer killed nine students (eight female and one male, 14–16 years old) and a female teacher. He shot most of his victims in the head. Kretschmer fired more than 60 rounds at the school. Because the majority of the victims were female, some speculated that Kretschmer specifically targeted females.
The school headmaster broadcast a coded announcement ("Mrs Koma is coming", which is amok spelled backwards) alerting the teachers of the situation and causing them to lock classroom doors. This coded alert had been used by German educators after the Erfurt school massacre in April 2002.
After receiving an emergency call from a student at 09:33 a.m. local time, three police officers reached the scene two minutes later and entered the school, interrupting the shooting spre
e. Kretschmer shot at them and fled the building, killing two female teachers in the hall as he departed.
Kretschmer fled the scene and killed a 56-year-old janitor (caretaker) of a nearby psychiatric hospital in the park. Large numbers of police officers secured the school building and searched for Kretschmer throughout Winnenden for hours without success.
At approximately 10:00, the gunman carjacked a Volkswagen Sharan minivan at a car park in Winnenden. From his position on the rear seat, the gunman ordered the driver Igor Wolf to drive towards Wendlingen, 40 km (25 mi) from Winnenden. The drive first took the gunman and the driver westwards into the suburbs of Stuttgart, the Baden-Württemberg state capital, travelling through the towns and districts of Waiblingen, Fellbach and Bad Cannstatt before driving on the B14 dual carriageway through the Heslach Tunnel onto the A81 autobahn motorway towards Böblingen and Tübingen. The two then drove onto the B27 dual carriageway before leaving on the B313 to Nürtingen.
Igor Wolf later reported that, when asked why he did this, the gunman replied "For fun, because it is fun." ("Aus Spaß, weil es Spaß macht.") According to Wolf, the gunman also revealed his intentions as he was loading his pistol magazines during the ride: "Do you think we will still find another school?" ("Meinst du, wir finden noch eine andere Schule?"). Wolf says he quickly changed the conversation then.
Shortly after 12:00 p.m, just before the Wendlinger junction to the A8 autobahn, the hostage steered the car onto the grass verge and jumped from the vehicle towards a police patrol car.
The gunman immediately left the car and ran towards the nearby industrial area, entering a Volkswagen car showroom through the main entrance. Here he threatened a salesperson and demanded a key for one of the vehicles. The salesperson managed to escape while the gunman was distracted. The gunman then shot and killed one of the other salespersons and a customer, firing 13 bullets into both people. As he reloaded, another salesperson and visitor fled through the rear exit. The gunman emerged at about 12:30 and shot at a passing car. The driver escaped without injury. The police started to arrive and a shootout began. An officer fired 8 shots at the gunman, hitting him once in each leg.
The gunman returned to the car showroom, firing 12 shots from within the building at police from nearby Nürtingen who were gradually surrounding the building. He then left the rear of the building and ran across a yard to a neighbouring business complex where he shot and injured two police officers in an unmarked police vehicle.
According to police reports, at this point Kretschmer continued to shoot at random, shooting at nearby buildings and people. Witnesses then describe observing the gunman as he reloaded his pistol before shooting himself in the head. The final seconds of the shootout were captured with a cell phone video camera.
According to forensic evidence, during the whole shooting spree the gunman fired a total of 112 rounds.
Tim Kretschmer was a resident of the neighbouring municipality of Leutenbach, and graduated from Albertville Realschule in 2008 with relatively poor grades.

His failing grades had prevented him from an apprenticeship so he attended a commercial high school (Donner + Kern) in Waiblingen as a preparation for an apprenticeship for a commercial career. Kretschmer was described by a friend as "a lonely and frustrated person who felt rejected by society". An anonymous friend described Kretschmer as a quiet student who began to withdraw from his peers.

He was an avid table tennis player and had hoped to become a professional player. Marko Habijanec, a Croatian table tennis player who coached Kretschmer at the Erdmannhausen sports club between 2000 and 2003, remembers him as being "a bit spoiled", his mother fulfilling many of his demands. According to Habijanec, Kretschmer had great difficulties accepting defeat: he would have a temper tantrum, yelling and throwing his racket. Having a high opinion of his own abilities, Kretschmer openly denigrated his teammates. When Habijanec discussed Tim's attitude with his mother, he was at disbelief to discover her siding fully with her son.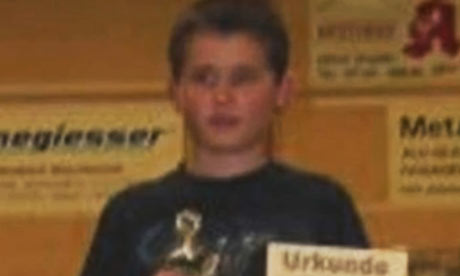 Media reports say he enjoyed playing the video game Counter-Strike and playing with airsoft guns. However, commentators also noted that "game addiction is a symptom of something wrong and not a cause". He also shot his guns in the forest behind his home and also in the basement of his house.
He had profiles at "MyVideo.de", Kwick.de and other websites. He often played poker with his classmates in the "Cafe Tunix" after school hours in Waiblingen.
Kretschmer did not have a criminal record. The press reported that in 2008, Kretschmer had received treatment as an in-patient at the Weissenhoff Psychiatric Clinic near the town of Heilbronn and that after being discharged, Kretschmer was supposed to continue his treatment as an out-patient in Winnenden, but ended his treatment. According to police and clinic staff, he had been treated repeatedly for clinical depression on an out-patient basis in 2008. His family rejected these claims and maintained that he never received psychiatric treatment. According to a psychiatric report prepared for the prosecutor's office, Kretschmer met five times with a therapist and talked about his growing anger and violent urges; the therapist then informed Kretschmer's parents.
In a press conference on March 12, police reported that Kretschmer had announced his killing spree several hours ahead of time on the Internet Imageboard Krautchan. The next day, police determined that this message had in fact not been written on Kretschmer's computer and was a forgery.
Three weeks before the shooting he had written a letter to his parents, saying that he was suffering and couldn't go on.

There were 15 victims, among them nine students:
Jacqueline Hahn, 16
Ibrahim Halilaj, 17
Franz Josef Just, 57 (worked at the psychatric hospital)
Stefanie Tanja Kleisch, 16
Michaela Köhler, 26 (Trainee teacher)
Selina Marx, 15
Nina Denise Mayer, 24 (Trainee teacher)
Viktorija Minasenko, 16
Nicole Elisabeth Nalepa, 17
Denis Puljic, 36 (worked in the car dealership in Wendlingen)
Chantal Schill, 15
Jana Natascha Schober, 15
Sabrina Schüle (Trainee teacher), 24
Kristina Strobel, 16
Sigurt Peter Gustav Wilk, 46 (Wendlingen victim)
Police raided the Kretschmer family house at about 11:00 on the day of the shooting. Tim Kretschmer's father legally owned 15 guns as a member of a local marksmen club ("Schützenverein" in German). One 9 mm Beretta handgun was found missing along with several hundred rounds of ammunition. Fourteen of the guns were kept in a gun safe, while the Beretta had been kept unsecured in the bedroom.
Five days after the event, prosecutors initiated preliminary proceedings against the father for negligent homicide since the gun had not been properly locked away as required by law. The 14 remaining guns were confiscated, and the father announced that he would voluntarily relinquish his gun ownership authorization. In November 2009, the Public Prosecutor's Department in Stuttgart announced that the father had been indicted on charges of negligent homicide, bodily injury caused by negligence, and violation of the weapons law. On 6 May 2010, the state court in Stuttgart upheld the charge against the father for weapons law violation, but dropped the homicide and injury charges. A judgment on these counts cannot to be expected "with the necessary probability". On 10 February 2011, the state court in Stuttgart found the father guilty of involuntary manslaughter, bodily harm caused by negligence and the negligent abandonment of a weapon and was handed a suspended sentence of one year and nine months.
German President Horst Köhler said he was "appalled and saddened" by the killings. Köhler and his wife expressed their condolences to the victims and their families and friends. Chancellor Angela Merkel described the shootings as "incomprehensible". "It is unimaginable that in just seconds, pupils and teachers were killed - it is an appalling crime," she told reporters. "This is a day of mourning for the whole of Germany," she continued. Baden-Württemberg Minister-President Günther Oettinger travelled to the scene of the crime by helicopter shortly after the news broke. Oettinger spoke of a "horrible and in no way explainable crime". He also expressed his condolences to the victims, students and families. "This has touched all of Baden-Württemberg. The school, the town, the future, education, and raising children - to destroy these things like that is especially cruel." The European Parliament held a minute of silence to honour the dead. An ecumenical Church service was held in Winnenden the evening of the shooting, attended by a Protestant, a Catholic, and a Muslim cleric. All German flags were flown on half-staff until 13 March, in memorial of the victims.
In the days following the event, some politicians called for legal consequences, including a total prohibition of all shooting video games, better monitoring of gun club members, a directive to have all ammunition deposited with police, and a provision to have gun club members store their weapons at the club house. Others dismissed such demands as mere "placebos".
The families of five victims wrote an open letter to Chancellor Angela Merkel, President Horst Köhler, and Baden-Württemberg Minister President Günther Oettinger with demands for consequences. They called for a prohibition on youths' access to guns in gun clubs, less violence on TV, and a prohibition of violent video games. They also called for reporting of these incidents without highlighting the perpetrator, so as to minimize the chance of copycats.
In May 2009, Germany announced plans to ban games such as paintball on the grounds that they "trivialise and encourage violence". The German government passed legislation in June to improve handgun security with an electronic nation-wide weapons registry, increased age limitations for large-calibre weapons as well as unannounced, random inspections in gun-owner homes. Obligatory biometric security systems should be introduced once technically feasible. A ban on fightin
g games such as Paintball, Gotcha and Laserdrome was not passed and neither was a limitation on the number of guns owned nor an obligation to store guns with shooting clubs.
Manufacturer: Hosmer Press
Buy Now
Editorial Review: Now that Tim Buck has been promoted out of the spy agency's cafeteria and left his hair net behind, he finds himself trying to prevent a disaster of Biblical proportions. A maniacal dentist from Idaho, Tim's mother, the clone of Tim's dead wife and a group of semi-deadly assassins are after the legendary stones that King David used to kill the giant, Goliath. Can Tim Buck overcome his distrust of women, his regrets about dropping out of the high school marching band, his clinical depression and a wealth of other assorted personal issues in time to save the world? If not, then the planet will be on the brink of catastrophe and Tim will be demoted back to the fryers.
Reviews
Manufacturer: Hosmer Press
Buy Now
Editorial Review: Tim Buck saved the world, or at least some of it, but he isn't living the life of a hero. His career as a spy is going nowhere, his dead enemies won't stay dead and he's been sent on a dangerous mission to perhaps the planet's worst destination. A colleague has been captured and brainwashed by the sinister forces behind the evil nation of Vulgaria and because every other asset has been tasked with attending a company retreat at a Las Vegas resort, it is up to Tim to rescue said person from said antagonists. To punctuate just how much his lonely life blows, he has to also relive a flashback subplot that is pretty much like his other assignments except for the weaponized penguins. They sound cute and cuddly, and they certainly can be, but they're really very dangerous and blood thirsty, too. Wait, there's more; his sad, isolated existence is played for giggles by an unseen narrator who may be working out his own gargantuan personal issues through Agent Buck's international foibles and romantic tragedies.
Reviews
Manufacturer: CreateSpace Independent Publishing Platform
Amazon Price: $8.49
Offers - Buy New From: $7.39
Used From: $8.38
Buy Now
Editorial Review: Tim Buck saved the world - at least some of it - but he's not living the life of a hero. Instead of joining his colleagues at a company retreat in Las Vegas, Tim has been sent to Vulgaria, literally the worst nation on the planet, to rescue a fellow agent. He is also made to relive a flashback plot involving weaponized penguins. They sound cute and cuddly, though they are just as likely to be cold and sadistic. The worst part is that Tim's terrors are told by an unseen narrator, bent on working through his own sordid personal issues directly through Agent Buck's literary foibles. What he discovers on his missions will change his world forever, although probably not for the better. Better Spies and Gardens calls Tim Buck 2 "The perfect mix of poignant and hilarious."
Reviews
Manufacturer: Militzke Verlag
Buy Now
Editorial Review: Erste umfassende Dokumentation zum Amoklauf von Winnenden
Am 11. März 2009 verübte der 17-jährige Tim K. in der schwäbischen Kleinstadt Winnenden ein unfassbares Massaker: Er tötete 15 Menschen und anschließend sich selbst. Ein Jahr nach dem Amoklauf legt der mehrfach preisgekrönte Focus-Journalist Göran Schattauer die erste umfassende Dokumentation des Verbrechens vor. Der Autor begab sich auf Spurensuche im familiären Umfeld des Täters, befragte Fahnder, Rettungskräfte, Tatzeugen und Juristen, sprach mit den Familien der Opfer und wertete Ermittlungsakten aus. Anhand vieler bislang unbekannter Fakten und Hintergründe rekonstruiert er das Leben und Töten des Tim K. - und findet dabei mögliche Antworten auf die entscheidende Frage: Wie konnte das geschehen?
Reviews
Last Updated on Thursday, 10 February 2011 13:38