Sunday, 15 August 2010 11:05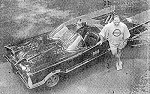 Scott Chinery
Notable because:  6.6" steroid abuser who made a huge fortune from the vitamin supplement business and took to extreme collecting and benevolence. In the 90's he assembled one of the worlds most famous Guitar collections. Commissioned the famous Blue Guitar collection.
Scott Chinery was best known as the owner of one of the world's most impressive and extensive guitar collections. But his greatest accomplishment wasn't the fact that he acquired more than 1,000 instruments-his foremost achievement was making the general public realize that the guitar is a work of art and an important icon of American culture. Scott worked ardently to elevate respect for guitars and to make Americans realize that the guitar was a valuable national treasure. Perhaps his most significant contribution was inspiring the Smithsonian Institution's Museum of American History to devote an exhibition to the American guitar. But that was just one of many accomplishments Chinery achieved. He also loaned his instruments to the Boston Museum of Fine Arts' Dangerous Curves: Art of the Guitar exhibit, sponsored numerous guitar shows where he displayed his instruments, provided his guitars to Steve Howe and Martin Taylor to record their duet album Masterpiece Guitars, and shared his collection with everyone in the book The Chinery Collection.
    However, Scott's proudest personal achievement was the Blue Guitar collection. Inspired by a magnificent blue sunburst D'Aquisto Centura Deluxe that he considered one of the most perfect guitars he had ever played, Chinery commissioned 22 of today's top luthiers and asked them to build what they thought was the ultimate archtop guitar. His only stipulation was that the guitar must have a similar blue finish to the D'Aquisto. Scott wanted to show people that many of today's guitar makers are producing exquisite instruments that are as desirable and precious as the most coveted vintage guitars.
   Scott was always generous with his collection and his enthusiasm rubbed off onto anyone with even a passing interest in guitars. One of the most exciting experiences I've ever enjoyed as a guitar collector was the time that Scott Chinery invited me to spend three days doing an extensive photo shoot of his vintage guitar collection for Vintage Gallery magazine. I was impressed by Scott's massive collection, but I was even more impressed by his passion for the instrument. Whereas many collectors would hover over their prized possessions like mother hawks, Scott encouraged me to handle and play these instruments and experience their magic in my own hands. But even more remarkable was how Scott welcomed everyone who shared his love of the guitar. He even invited total strangers who asked to see the collection into his home and treated them like lifelong friends.
   The guitar collecting community suffered a tragic loss when Scott Chinery suddenly passed away on October 24, 2000. He was only 40 years old, but the enthusiasm and respect for guitars that he inspired will live on for many generations to come. 
"Chinery has such a balance. In 1984, he sold his vitamin and nutritional supplement company, called Cybergenics, for the kind of money that puts a Lamborghini Diablo in the driveway, Cuban double coronas in the walk-in humidor and the world's greatest private guitar collection -- 1,000 vintage guitars -- in his "simple" chateau in Toms River, New Jersey.

Chinery, who has studied the guitar for the past 20 years, is one of those collectors who believe that the instruments are there to be played, no matter what their value. Larry Acunto recalls his first visit to Chinery's house to look at the collection. "The first time my brother and I met Scott, " Acunto says, "we walked into the guitar room and there he was, surrounded by guitars, strumming on what was then one of the most valuable guitars in the world, a $100,000 Stromberg Master 400. Les Paul once said that he couldn't imagine living in a house without guitars everywhere. I guess Scott feels the same. "

Jay Scott agrees. "Guitars that are played regularly are better instruments, but generally not worth as much, as an untouched, mint instrument. Players tend to buy musical instruments; most collectors buy investments. "

Many famed guitar layers collect vintage guitars, including Eric Clapton, Pete Townshend, Keith Richards, Stephen Stills, Steve Miller, Rick Nielson, Greg Martin and Chet Atkins. Other notable collectors include actor Richard Gere, author Jonathan Kellerman and "Far Side" cartoonist Gary Larson.

If vintage guitars are valuable because of who made them or how they advanced the art of guitar making, what about guitars that are valuable because of the celebrities who played them? Robert Levine of Sotheby's collectibles department looks at the world of guitar collecting from that perspective.

 "Most vintage guitar collectors are students of music, music making and instruments, " Levine says. "You could spend your whole life learning about the instrument itself. The majority of celebrity guitars on the market appeal to a different sort of collector. Seventy percent of what we sell is what we call "signer "guitars. Probably something that a fan or roadie got a performer to autograph. Then there's a smaller percentage of really fine celebrity instruments, the historically significant guitars--someting used on a recording or shot for an album cover or played in concerts. A good example would be the 'Smashed Hendrix,' a fragment of the Fender Stratocaster that Jimi Hendrix wrecked during the 1967 Monterey Pop Festival. It sold in June 1992 for $8,800.

Newspaper interview 1999.
Never mind how Scott Chinery made his money. Consider instead that he claims the largest collection of pre-Castro Cuban cigars this side of Havana.

He counts between 11,000 to 12,000 of them, some 30 to 40 different brands.

Add to that about l00 guitars, dozens of valuable watches, 14 expensive cars, up to 3,500 comic books - including first editions of Batman and Superman - and a Batmobile and a Batcycle with sidecar from the 1960s television series. The latter two items cost him $240,000, but with Batmania revived by the new movie he says he's been offered $2 million for the car alone. He isn't selling.


In short, Scott Chinery, a multimillionaire by age 29, is larger the life. In fact, he stands 6-6 and weighs in at 275 pounds. Shaking his hand is like grabbing hold of a small ham.

He'd be smaller today, but as a kid he wanted to be bigger, and a college football coach told him steroids would do it. He quickly added 25 more pounds of muscle to an already impressive frame. That's how he made his money, selling what he calls a safe alternative to steroids to others who, like him, wanted to be bigger than nature intended. The Batmobile investment brought him fame faster than steroids put muscles on a 98-pound weakling.

"Want to go for a ride in the Batmobile?" he offers- "You cay be Robin." A visitor to his palatial garage has to step past the Bentley convertible, the Rolls-Royce, the Lamborghini Countach and the 1958 Thunderbird before getting to the sleek, black piece of television Americana.

Tne Bentley; incidentally, sports a $40,000 sound system, the floor strewn with compact discs, including his favorites, the Judds. "I'm in love with Naomi Judd." he confesses. The rest of his cars, a mint condition 1962 VW bug and a 1961 Corvette among them are warehoused.

Tne Batmobile, Chinery's prize possession, still bears its "Gotham City" license plates. It's sister vehicle, the only other in existence, remains impounded in Australia where it was involved in an accident.

A ruthless practical joker, Chinery's home security system has one camera trained on the front door. To torment visitors, he can hit a button next to his desk and spray the unsuspecting callers with water.

For his daughter's first birthday, he ordered a full-fledged circus for the back yard.

At the end of a national television interview, Chinery, in the midst of a divorce, confessed that being young and rich can get lonely, and what he'd really like to collect is a kind and loving wife.

He received more than 24,000 calls on a toll-free line. Callers were asked to send letters and pictures, and 12,000 did. Chinery talked to 1,200 of them by phone and had dates with 34. He's dated three of them more than once. His office is cluttered with the guitars - one belonged to rock star Rick Derringer and another to Eric Clapton - and he collects antique carnival games. A wooden Uncle Sam invites: "Shake with Uncle Sam. Only one cent. He will tell you the strength of your grip."

But Chinery's penchant for adolescent pursuits ends when he talks about steroids.
He said he and others he knew often took massive doses, downing a half bottle of black market steroids at a time.

"They were being misused then more than now, even though they're more widely used now," he said.
Normally easygoing, he recalls bouts of "roid rage," an uncharacteristic urge to destroy that often strikes steroid users.

When a neighbor in his college dormitory refused to turn down his music, "I ripped the Sheetrock down but I couldn't fit between the rafters. I went around through the door and then I pushed him through the ceiling."

The steroids wreaked havoc on his body: He landed in the hospital, ended a promising football career and dropped out of college.
Chinery came back with a vengeance. After spending years researching safe alternatives to steroids, he marketed his product called Cybergenics and quickly built a multimillion-dollar business.

He started out as a shoestring mail-order operation. Now he markets his product through 2,000 retail outlets in several countries. He sells a sophisticated blend of amino acids and a protein supplement, along with a workout guide and video - sort of a Jane Fonda of bodybuilding.

He lists a litany of nasty side effects that steroids can cause; liver damage, kidney damage, hair loss, enlarged breasts, impotence, high blood pressure. And he campaigns actively against them.

A handful of bodybuilding authorities say Chinery's product is a useful alternative to steroids.
Dominic Certo, former vice president of the International Federation of Body Building and a former Mr. North America, said the results at gyms have been good.

"I couldn't say scientifically that they're as effective as steroids. I could say they're the best alternative to taking Drugs," Certo said.

Robert Kennedy, publisher of the Toronto-based Muscle Mag International, agrees.

"It doesn't work like steroids," Kennedy says, "steroids work like a kind of magic. They'll kill you, of course, but the steroids will give you immediate size within a day or two. The muscles just become rock hard, and people get hooked on them."

Chinery knows the market to which he is appealing is a vulnerable one. "These people out there are so impressionable and so motivated- motivated to the point of obsession," he says.

These days, Chinery is flexing his financial muscles in other ventures. He's taken up charitable causes, working with epileptics and terminally ill Children.

He couldn't find a decent car stereo store, so he opened his own and installed a $40,000 sound system in his Bentley.

He loves a good cigar, so he markets his own line.

As he pulls out of his house in the Bentley, some teen-age girls are parked out front.

"Hi Scott," they say in unison.

"They're not groupies," shrugs Chinery, "I've got lots of groupies, but unfortunately, they're all skinny guys who want to be big"
YouTube interview... http://www.youtube.com/watch?v=1kwU2RxZqy0 HERE 
Manufacturer: Outline Press Ltd
Amazon Price: $292.85
Offers - Buy New From: $207.69
Used From: $207.21
Buy Now
Editorial Review:
Scott Chinery has carefully and painstakingly built a museum-quality collection of the very finest examples of American guitars. Presented in print for the first time is a breathtaking display of 250 great guitars from his unique collection, covering ever significant development beginning with Martin's 'parlor' guitars of the 1830s to recent D'Aquisto archtops. Presented in full color, this limited edition, slipcased volume is a wonderful and unparalleled resource for the player, collector and music fan. Every important and beautiful strand of the luthier's art in America is portrayed here. Published as a special collectors' edition, The Chinery Collection is limited to 6000 numbered copies worldwide.


Reviews
Manufacturer: L & S Research
Amazon Price: $12.95
Offers - Buy New From: $150.00
Used From: $27.97
Buy Now
Editorial Review: writing on inside cover, shown in pictures
Reviews
Manufacturer: BALAFON BOOK
Offers - Buy New From: $200.00
Used From: $350.00
Buy Now
Reviews
Manufacturer: UNSPECIFIED VENDOR
Used From: $75.00
Buy Now
Reviews
Manufacturer: L & S Research
Offers - Buy New From: $174.99
Used From: $125.00
Buy Now
Reviews
Last Updated on Sunday, 15 August 2010 17:34