Sunday, 19 October 2008 12:47
Lowell Thomas George
Born: April 13, 1945, Hollywood, CA.
Died: June 29, 1979, Arlington, Virginia.
Age: 34
Cause of death: Heart attack.
Notable because: Played with Frank Zappa and wrote 'Willing'.
Lowell George was an American singer-songwriter, multi-instrumentalist, and producer, who primarily achieved fame as lead vocalist and frontman in the rock band Little Feat where he was known for his slide guitar skills.
He is the father of singer-songwriter Inara George, who is a successful solo artist as well as a member of the duo The Bird and the Bee.
Lowell George was born in Hollywood, the son of Willard H. George, a famous furrier who raised chinchillas and supplied furs to the movie studios (he was also known as the "furrier to the stars").
George's first instrument was the harmonica. At the age of 6 he appeared on a television talent show (Ted Mack's Original Amateur Hour) performing a duet with his older brother, Hampton. At Hollywood High School Lowell took up the flute in the school marching band and orchestra. He started to play guitar at age 11, continued with the harmonica, and later learned to play the saxophone and sitar. Originally, he played guitar with fellow schoolmate (and future bandmate) Paul Barrere and both experimented with using a slide, but George became most interested in the sounds he could emit and continued to explore his growing dexterity with it, taking it to a higher level.
George's first band, The Factory, formed in 1965. Members included future Little Feat drummer Richie Hayward (he replaced Dallas Taylor in Sept 1966), and Martin Kibbee (a.k.a. Fred Martin) who would later co-write several Little Feat standards with George, including "Dixie Chicken" and "Rock & Roll Doctor". Frank Zappa produced two tracks for The Factory.
Following the disbanding of The Factory, George briefly joined established hit band The Standells, although by this time, in 1968, they were past their prime, and soon to split. There followed a few months in late 1968 to early 1969 where George was a member of Zappa's band, the Mothers of Invention and can be heard on both the album Weasels Ripped My Flesh, and playing guitar and singing on several tracks on the first disc of Zappa's "You Can't Do That on Stage Anymore, Volume 5," including a powerful version of "Here Lies Love," with Lowell as lead vocalist. According to George's recollection, he was kicked out of Zappa's group after proposing the song "Willin," ostensibly because the song is about a truck driver that contains references to drug and alcohol use. Zappa was an inflexible opponent of illicit drug use within his presence. "Willin'" and "Dixie Chicken" are among George's most well known and frequently recorded songs.
After playing with the Mothers of Invention, George invited fellow musicians to come together and form a new band, which they named Little Feat, since Lowell had been endowed with very small, fat little feet. The spelling change of "feet" to "feat" was a nod to the legacy left by The Beatles.
George is best known and remembered for his outstanding ability on the slide guitar, and his unique, soulful voice, which was powerful with a blues-funk twist. Lowell usually (but not always) played lead guitar with Barrere and focused as a slide guitarist. Although he experimented earlier with playing with a slide, an injury to his hand involving a model aeroplane propeller (see Neon Park's cover for Little Feat's Under the Radar) during the recording of Little Feat's first album prompted him to rethink his use of a traditional glass side. It was unfortunate for him that Ry Cooder had to be called in to play the slide on original Little Feat recording, although once better, Lowell continued to pursue his own style, and re-recorded some of his material. Rather than the traditional glass or steel slide, George employed a Sears and Roebuck Craftsman 11/16ths socket wrench. Although not the first – since 1965 Ry Cooder had been playing slide live and on albums – George was certainly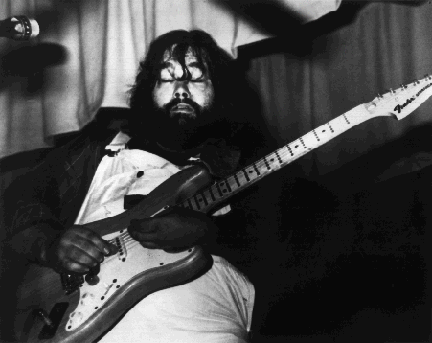 amongst the pioneers of the use of slide guitar in rock music, alongside Cooder. Also contributing to his distinctive slide style, it was "his use of compression that defined his sound and gave him the means to play his extended melodic lines."
Outside of his band, he played guitar on John Cale's landmark 1973 album Paris 1919.
Little Feat enjoyed popularity throughout the 1970s, releasing a series of highly regarded studio albums: Little Feat, Sailin' Shoes, Dixie Chicken, Feats Don't Fail Me Now, The Last Record Album, and Time Loves A Hero. The group's 1978 live album Waiting for Columbus, hailed by critics and fans alike as one of the greatest live records ever released, became their best-selling album. Mick Taylor, formerly of the Rolling Stones guested with the band on that recording.
George was also a respec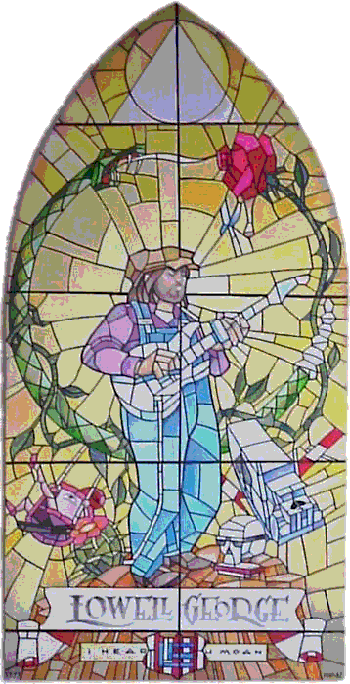 ted producer, with his most famous work being the production of the Grateful Dead's 1978 release Shakedown Street. Because of his drug use he was unable to finish the album and another producer finished the recording. He also produced Little Feat's records, Valerie Carter's 1977 release Just A Stones Throw Away, and his own solo effort.
In 1979, George released the solo album Thanks, I'll Eat it Here.
On June 15, 1979, George began a tour in support of his solo album. After playing at Lisner Auditorium, on the campus of George Washington University, Washington D.C., he returned to his room at the Key Bridge [Marriot International|[Marriott Hotel]] in Arlington, Virginia. George fell ill in his room and died on June 29, 1979. Although George was a long time drug user, police who attended to the scene found no evidence of drug paraphernalia, or of drugs having been removed from the scene. An autopsy showed that he died of a massive heart attack. Lowell George's body was cremated in Washington D.C. on August 2. His ashes were flown back to Los Angeles, where they were scattered in the Pacific Ocean from his fishing boat.
A benefit concert for Lowell George's family was held shortly after his death at The Forum in Los Angeles on August 4, 1979, featuring Little Feat, Jackson Browne, Linda Ronstadt, Bonnie Raitt, Nicolette Larson, among others.
The song "Ride Like The Wind" on the 1979 self-titled album by Christopher Cross was dedicated to Lowell George.
Jackson Browne memorialized George in his 1980 song "Of Missing Persons" , written about George and addressed to his daughter, Inara George who is in The Bird and the Bee.
In 1988, American rock band Van Halen covered "A Apolitical Blues" as the closing track for their album OU812.
In 1997, the CD "Rock-n-Roll Doctor - A Tribute To Lowell George" was released featuring various artists performing versions of Lowell George's songs, including Jackson Browne, J.D. Souther, Bonnie Raitt, Eddie Money, Randy Newman, Japanese recording star Keisuke Kuwata, and Lowell George's daughter Inara George.
Last Updated on Friday, 08 April 2011 08:04