Wednesday, 26 October 2011 16:38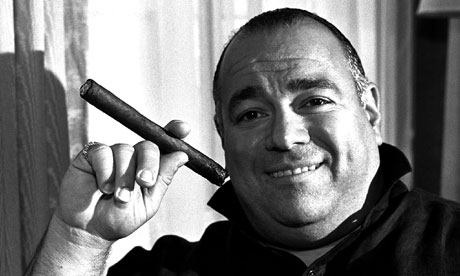 Frank Michael Dileo,
Born: 23 October 1947
om Jackson recorded. His success in turning Jackson into the globe-conquering King of Pop prompted Jackson to hire Dileo as his manager, forming one of the most formidable partnerships in music-business history.
Dileo was born in Pittsburgh, and his earliest music-related job was stacking shelves in record shops. He was hired by Epic in Cleveland in 1968 to promote records to radio stations. Having enjoyed success promoting such artists as the Hollies and Sly and the Family Stone, he was rewarded with a move to Epic's regional hub in Chicago. He was headhunted by RCA and then Bell Records, and in 1972 moved to Monument Records in Nashville.
In 1979, Dileo was hired by the CBS Records president Walter Yetnikoff to rejoin Epic, which was a subsidiary of CBS, this time in New York as vice-president of national promotion. Epic's roster included acts such as Gloria Estefan, Meat Loaf, Ozzy Osbourne, REO Speedwagon and Culture Club,and Dileo ensured that they were promoted with every tool at his disposal. These included the use of a group of independent record pluggers dubbed The Network, who were investigated by US federal authorities in the 1980s for payola (bribery) and alleged links to organised crime. Dileo rebuffed such allegations with the comment: "There ain't been organised crime since Capone died."
Epic's biggest act of all was Jackson, and the star was delighted with Dileo's inspired work promoting his 1982 album Thriller. Dileo devised a successful radio campaign and exploited the new medium of the pop video for the singles Billie Jean, Beat It and especially Thriller, which became a mini-movie directed by John Landis and featuring dancing zombies and a rap by the actor Vincent Price. Thriller generated seven Top 10 singles in the US and netted Jackson seven Grammy awards in 1984.
The singer hired Dileo as his manager, and he stayed in post for the next five years, adding value to the Jackson brand by negotiating a $10m endorsement deal with Pepsi and organising two massively successful international tours. However, Jackson was unhappy when his Thriller follow-up, Bad, failed to get near his target of 100m in sales, and he sacked Dileo in 1989.
Dileo enjoyed a fling with Hollywood when Martin Scorsese (who had directed Jackson's Bad video) cast him as the mafioso Tuddy Cicero in GoodFellas (1990). He also played the record executive Frankie "Mr Big" Sharp in Wayne's World (1992) and Wayne's World 2 (1993). After managing artists including Taylor Dayne and the Bon Jovi guitarist Richie Sambora in the 1990s, Dileo made a surprise comeback as Jackson's manager. He had shown stoical support for the singer by attending every day of his three-month child-molestation trial in California in 2005, which ended with Jackson's acquittal. Dileo worked with Jackson in 2009 as the artist prepared to perform 50 comeback concerts at the O2 Arena in London. When Jackson died of a drugs overdose three weeks before opening night, it fell to Dileo to break the news to the star's children.
In January 2011, Dileo revealed that he was planning to write a book about his life in the music business, which would have included details about his wrangling with the executors of Jackson's estate. "There's so much misinformation out there that I'm going to set the record straight once and for all," he said.
Dileo is survived by his wife, Linda, his son, Dominic, and daughter, Belinda, and his sister.
Michael, who had been without a manager for eight months, asked Dileo to fill the position in March 1984 at the Beverly Hills Hotel. Dileo accepted two days later and started managing Michael three months before the start of the Victory Tour. He recalls:
"Believe me, that was work. Every brother had a lawyer and an accountant. We had to have white promoters and black promoters. It was quite a complicated fiasco. But I got Michael through it safely." Among the three black promoters were Don King and the Reverend Al Sharpton. "That was before Rev. Al Sharpton owned a suit. He was still in sweats."
Bill Bennett, head of Warner Nashville and a friend of Dileo's since the late '70s, has one particularly fond memory of the Victory Tour's opening night:
"We were in Kansas City and I said, 'Frank, I'm going to Arthur Bryant's,' which is one of the most famous homes of barbecue in the world. And Michael looked at me and said, 'Oh no, Bill, Frank's a vegetarian now.' So Frank goes, 'Yeah, Michael's looking out for my health.' As he walks me out the door, he gives me a key and says, 'Meet me in this room when you get back, and bring some barbecue.' "
Dileo recalls:

"Michael used to moderate everything I ate. It's amazing—when I started with him I was 210; when I ended with him, I was 265. So that's what eating healthy does to you."

The article also mentions, that Dileo convinced Michael to do the video for "Thriller". He recollects:

"Actually, he only wanted to do two videos—'Billie Jean' and 'Beat It,' So while I was still working for Epic, [product manager] Larry  Stessel asked me to fly out there and talk him into doing 'Thriller,' because he was pretty adamant that he wouldn't do it."

To outsiders Michael Jackson may look naive, but when it comes to business, he's not. Walter Yetnikoff once said about him:

"He has made observations to me about things like promotion which indicate he would be totally qualified to run a record label if he so desired." Dannen himself describes Jackson as "an ambitious man with extensive knowledge of the record industry's workings."

In September 1987, Jackson embarked on the BAD Tour - his first tour as a solo performer, which Dileo produced. Dileo recalls:

"It was a headache. You were moving 213 people every three days. In London, we played Wembley Stadium seven times in a row, 72,000 people a night. And we could have probably played it 10 or 12 nights, but at the time they only had seven available."

Of course, there was a lot more to managing Michael Jackson than producing world tours. Dileo says fondly:

"We did a lot of things, Michael and I. I got to executive produce all the videos of the Bad album. I did Moonwalker. I got nominated for two Grammys: for 'Smooth Criminal' and 'Leave Me Alone.' And I won a Grammy for 'Leave Me Alone'—as the producer of the video, not the record."

Another managerial coup from Dileo's Jackson stint was his negotiation for the Pepsi commercial:

"I got [Pepsi CEO] Roger Enrico to pay me up front, which was never done before. In fact, we cut the deal on the Pepsi jet. Once we agreed upon a price, I said to Roger, 'OK, there's just one more thing. You've got to pay it all up front.' He says, 'I don't know.' And I said, 'Roger, did Elvis Presley ever do a commercial for Pepsi?' He said no. I said, 'Did The Beatles?' He said no. I said, 'What do you want to be—0 for 3?' He shook his head and went into the men's room and came back and said, 'OK, you got a deal.' "

Dileo harbors no ill will toward Michael over his firing in February 1989:

"It's a shame it ended. I really like Michael. It ended for a lot of reasons. First of all, Michael and I spent every day together for five-and-a-half years. A lot of people were jealous of that. And at that point in time, we had a lot of power between us. There was one or two record executives, and a lawyer, possibly two lawyers, that sort of needed me to get out of the way, so that they had more control with Michael. And it also was a way for them to get rid of Yetnikoff, who had a lot of power and was my friend."

But how was Jackson convinced?

"Unfortunately, they talked Michael into it by promising him—now this is according to Michael, and I believe this—by promising him that if he fired me and hired Sandy Gallin, that he'd be able to make movies in Hollywood. Now the truth be told, Michael never made a movie. The only movie [besides 1978's The Wiz] he's ever made was with me, and that was Moonwalker."

When Jackson went on trial in 2005, Frank stayed in Los Angeles for over three months, on his own dime:

"I know that he is innocent. A lot of people attack him for a lot of different reasons. One is, everybody would love to get their hands on the Beatles' publishing. And he's just one of those guys, he's real kind and real nice and he can easily be taken advantage of.

In this particular case, this kid had cancer, he found him a doctor, they didn't have any money, he allowed them to live on his ranch. And when it was over, they didn't want to leave. It was like blackmail. That's all it was.

Contrary to what you might expect, his office is a humble space in a nondescript building. But hanging on those office walls are enough gold and platinum records to make your head spin. And there is also a framed photograph of Frank Dileo and Michael Jackson, from behind, standing at urinals in a public restroom. Above Michael's head, in Michael's handwriting, are the words:

"This water sure is cold." Above Frank's head, he wrote, "It's deep too."

 
Manufacturer: Bruno Gmunder Verlag Gmbh
Amazon Price: $17.95
Offers - Buy New From: $13.99
Used From: $7.99
Buy Now
Editorial Review: Besides its erotic quality, the work of the photographer Frank DiLeo is a contemporary document. Shots taken in Sicily during the seventies reflect the simple and tingling eroticism of this period at this location. Photographs of a lost world.
Reviews
Manufacturer: OPUS Media Group
Amazon Price: $999.00
Offers - Buy New From: $496.00
Used From: $800.00
Buy Now
Editorial Review: The Official Michael Jackson OPUS is the only new publication approved and endorsed by the Estate of Michael Joseph Jackson. With over 400 pages of stunning and never-before-seen photographs plus personal, heartfelt essays written exclusively for this OPUS by those who knew Michael best and respected him most. This one-of-a-kind tribute book will help fans treasure the memory of an extraordinary person and performer.
Reviews
Manufacturer: Hansen Publishing Group
Buy Now
Editorial Review: An essay by film historian John DiLeo about the film Hour of the Gun (1967). Excerpted from DiLeo's book, SCREEN SAVERS: 40 Remarkable Movies Awaiting Rediscovery (2008) from Hansen Publishing Group.
Reviews
Manufacturer: Time Inc
Used From: $10.00
Buy Now
Editorial Review: THE DENTIST AND THE PATIENT: AN AIDS MYSTERY -- Two years after routine dental surgery, college student Kim Bergalis developed AIDS. Now her dentist is dead of the disease.
Reviews
Amazon Price: $2.99
Offers - Buy New From: $2.99
Buy Now
Reviews
Last Updated on Wednesday, 26 October 2011 16:50