Thursday, 08 July 2010 10:48
Michael Thomas McCarthy
Born: 22 September 1942, in Cirencester, UK
Died: 4 March 1979 
Age: 36
Cause of death: Lymphatic Leukemia
Notable because: Gifted musician ahead of his time, burns out and dies tragically. His band PATTO have become legendary in their influence. Phil Collins cites drummer John Halsey as a major influence. Guitarist Ollie Halsall is regarded as one of Britain's finest ever. The bands tale is one of tragedy. Singer and guitarist both did young. Bass player Clive Griffiths dreadfully injured in car crash. And their drummer spent long periods selling fish from the back of a van, such was his lack of commercial recognition.
Mike Patto was the lead singer of British progressive jazz rock fusion band, Patto.  Formed in 1970, the band never sold many records, but thanks to a great live show, they did manage to land a deal with Island Records in 1972.  The band released three studio albums and a live album before breaking up in 1973.  Not to be forgotten, Patto's "The Man," was featured in previews for the popular 2009 comedy, Observe and Report.  Mike Patto became vocalist and front man for The Bow Street Runners, who won a prestigious TV band competition Ready Steady Win during 1964 . He was a member of Timebox, his own band Patto and Dick and the Firemen. He is also known as a founding member of the rock band Boxer. In 1974 Patto briefly joined Spooky Tooth, with whom he recorded one album, The Mirror, before they broke up.  On March 4, 1979, Mike Patto died of lymphatic leukemia at the age of 36.
 Mike Patto first came to light as the vocalist in a Norwich R&B outfit called Mike Patto and The Breakaways. After several line-up changes, The Breakaways became The Bluebottles, but soon after Patto headed for London to join The National Youth Jazz Orchestra. At the same time he had a spell with The Bo Street Runners and the Chicago Line Blues Band in 1966 before forming Timebox, which eventually evolved into Patto.  These three albums were heavier in style than what he'd done to date but failed to capture a wider interest. Nonetheless, "Patto" (1970), was a good jazz-rock fusion featuring some fine vibraphone and guitar playing from Ollie Halsall. "Hold Your Fire", which is now hard to find on vinyl, was reputedly better, although their album for Island was rather disappointing. When the project disintegrated in 1973, Patto embarked on a brief solo career and also had spells in Spooky Tooth and Boxer (the latter venture reuniting him with Ollie Halsall). After the split, Mike Patto joined Spooky Tooth for their last album The Mirror (1974), Ollie Halsall joined John Hiseman's Tempest, Clive Griffiths played with Alexis Korner's CCS and John Halsey worked with Grimms, Joan Armatrading, Lou Reed, and many others before joining up with Ollie again to get involved with Neil Innes and Eric Idle's RUTLES project. Starring as Barry Wom in the movie.
Mike and Ollie formed BOXER in '75
, their first album being better remembered for its cover than its contest. Two more albums were recorded, but Mike Patto's career was sadly arrested by illness. He was diagnosed as suffering from lymphatic leukemia, and after a brave fight he died on 4 March 1979, in great pain.
 Blessed with the some chugging tempo as The Beatles' "Baby, You're A Rich Man", Timebox's classic 45 "Gone Is The Sad Man" never scaled the charts. With insistent piano chords, McCartney-esque bass runs, Traffic-like vocals, and incisive guitar embellishments, it's a psychedelic classic. It would also be entirely forgotten were it not for the efforts of the psychedelic re-issue labels of the 1980s, and the desire here to delve into the origins of Patto.

Developing from a complicated ancestry that included The Bow Street Runners, Patto's People, and the Chicago Blue Line, Timebox made two singles for Pye's Piccadilly subsidiary as a six-piece, before signing to Decca's Deram label in 1967 with the line-up of Mike Patto on vocals, Pete 'Ollie' Halsall on guitar and vibes, Chris Holmes on piano, Clive Griffiths on bass and John Halsey on drums. This line-up recorded five singles for Deram between '67 and '69, none of which troubled the compilers of the Hit Parade, despite the excellent musicianship that allowed them to encompass several genres of music in their output ("Walking Through The Streets Of My Mind").

In 1969, after their last single "Yellow Van" failed, and Chris Holmes departed, they decided that their future lay in the burgeoning progressive movement, which in itself was born of the freedom from instant commercialism that the better musicians of the psychedelic flowering had forged. And thus Patto (the group) was born.

Lucky enough to be signed to the recently created Vertigo label, soon to become home of many progressive rock classics, Patto went into the studio with Muff Winwood in the producer's chair. Winwood had left the Spencer Davis Group shortly after his brother's departure in 1967, in order to take up the job a the head of A&R at Chris Blackwell's Island Records, Blackwell having managed the S.D.G.  Perhaps as a reaction to the complicated sound of the Timebox records, Winwood decided to record Patto with a 'live-in-the studio' feel, though the result still showcased Ollie Halsall's guitar virtuosity.   The imaginatively-titled "Patto" was released in November of 1970, and whilst the album demonstrated the band's expert handling of tricky time signatures and jazz changes (applauded by the critics and fellow musicians), their efforts were not rewarded with substantial sales.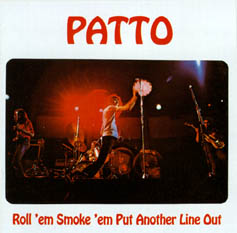 A second album, "Hold Your Fire", issued a year later, contained many of the same ingredients, and resulted in similarly disappointing sales and Vertigo dropped the band. Muff Winwood's connections got them a new deal at Island Records, and they returned to the studio with Winwood to record "Roll 'Em Smoke 'Em Put Another Line Out", released in 1972. As is plainly audible, the ramshackle element of their live act is well to the fore, along with elongated examples of the band's humour. The outstanding musicianship can still be heard, but the album was unfavourably received.

Despite internal friction, the band recorded the fourth album in 1973.  With a title like "Monkey's Bum", it's
a fair bet that it was pretty much more of the same, and Island Records rejected it. The group Patto disintegrated after playing their last gig that April.  Patto himself joined Spooky Tooth for their last album "The Mirror" (1974), Clive Griffiths played in CCS before resurfacing in Joe Brown's band, and John Halsey played drums for Joan Armatrading and the Scaffold/Liverpool Scene/Bonzos aggregation, Grimms (now available on Edsel EDCD 370) as well as starring in the role of Barry Wom in "The Rutles".

Ollie Halsall joined Jon Hiseman's power trio Tempest for the latter of their two albums, before he and Patto formed Boxer in 1975, their first album being better remembered for its cover than its contents. Two more albums were recorded, but Mike Patto's career was sadly arrested by illness. He died of lymphatic leukemia in March 1979. Halsall linked up with Kevin Ayers in the mid-seventies and remained his touring and recording guitarist until his untimely death in Madrid in May 1992. Only a month earlier he had played three concerts with Ayers at the Shaw Theatre in London.  In an interview he gave in 1992 to the fanzine Ptolemaic Terrascope he said he spent most of the 1980s selling fish from the back of a van. Following a near-fatal accident in May 1983 returning from a Joe Brown show in Chichester in a car being driven by Patto bass player Clive Griffiths (who suffered devastating injuries from which he has never fully recovered). Since then, Halsey has been a pub landlord, first in Suffolk in 1986 and since 1996 at the Castle Inn public house in Castle Street, Cambridge.

"Roll 'Em Smoke 'Em…" contains some of Patto's finest moments ("Loud Green Song" and "Singing The Blues On Reds"), and was apparently regarded by the group as their best album.

Manufacturer: Bloomsbury Paperbacks
Offers - Buy New From: $99.41
Used From: $99.00
Buy Now
Reviews
Manufacturer: BookBaby
Buy Now
Editorial Review: The beginning of love is involuntary. It's falling and helpless and head-over-heels. It's a deliriously happy blush that poets and rock stars have spent history and will spend eternity trying to describe to us. But we already know how it feels. We've been there and we desperately want to go back there whether we're single or newly married or divorced or reaching the end of a lifelong partnership. The beginning of love is the inclination to leap without looking. But, sooner or later, we have to look. We have to consider how we will ever go on living if something happens to these people who have become our treasures and where our hearts find rest.

Authors Mike and Patti Paschall step into that scary question with Till Death Do Us Part. Through interviews with 12 brave souls who cared for their spouses during end-of-life illnesses, the Paschalls uncover the stories of men and women who have truly been a safe haven even as the storm of life drenched them to the bone.

Till Death Do Us Part uses question-and-answer, so we hear directly from the sources. Each interview begins with "Tell us about how you two met and fell in love?" and works through the stories from there. Eventually, the authors come to queries such as "Did his personality change at any level?" "How much of the overall burden did you shoulder by yourself?" "Was there an opportunity to say goodbye before their final sleep?" The answers span the spectrum of human existence as we're shown pain to the point of torture, love stronger than cancer, brokenness beyond the repair of trite encouragement, hope in things unseen and joy in the face of shattering adversity. In the end, Till Death Do Us Part spares easy answers and trite solutions, but instead buoys us as we face the most frightening questions of life and love and death.

Reviews
Manufacturer: Word
Offers - Buy New From: $13.40
Used From: $3.97
Buy Now
Editorial Review: Sandi Patti and the Friendship Company
Reviews
Buy Now
Editorial Review: All items are the original first printing in Near Mint condition or better (no major flaws such as pinholes, tears, creases etc.) unless otherwise stated.Not just a dealer, we maintain one of the world's largest archives of this type of material for documentation purposes. Patti Smith Word Bombs Portland Punk Flyer Concert Poster PERFORMERS: Patti Smith VENUE: Crystal Ballroom OR DATE: 4/19/2000 YEAR: 2000 ARTIST: Mike King CATEGORY: Telephone Pole Posters SIZE: 11x17 PRICE: NOTES: Patti Smith Word Bombs Concert Poster. This original 11x17 inch telephone pole poster was printed to advertise Patti Smith 4/19/2000 at The Crystal Ballroom in Portland, OR. Great Design by Mike King with bombs dropping from her moth with words on them like "idea", "Dream", "Voice", etc.
Reviews
Amazon Price: $55.99
Offers - Buy New From: $26.99
Buy Now
Editorial Review:
Comfort is key at Timeson and to ensure you experience the best there is, we have refined the dozens of measurements it takes to make each garment just right for you. Our Comfy eLong Tunic Tops are carefully constructed to be flattering, easy to wear and to give you the perfect comfort contour.
Knitting Fabric.
V-Neck Detail.
Three Quarter Sleeve.
The Contrast Size Pockets.
Assymetrical Hemline Design.
Size:
M:
---Length--33.1" Bust--36.2" Sleeve--16.9" Shoulder--15.4"
L:
---Length--33.9" Bust--38.2" Sleeve--17.3" Shoulder--15.7"
XL:
--Length--34.6" Bust--40.2" Sleeve--17.7" Shoulder--16.1"
XXL:
-Length--35.4" Bust--42.5" Sleeve--18.1" Shoulder--16.5"
Reviews
Last Updated on Thursday, 08 July 2010 11:30