Saturday, 28 March 2009 12:18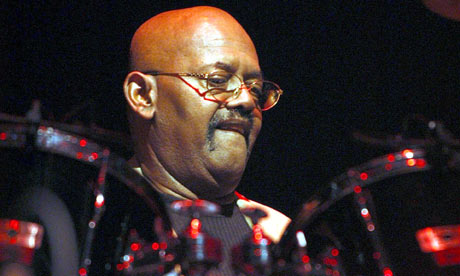 Uriel Jones
Born: 13 June 1934
Died: March 24, 2009, Oakwood Hospital & Medical Center in Dearborn
Age: 74
Cause of death: Heart attack
Notable because: He was the drummer on recordings that generated multiple millions of dollars for the Motown owner, including "My Girl" and "Ain't Too Proud to Beg"  by the Temptations, "Signed, Sealed, Delivered, I'm Yours" by Stevie Wonder, "What Becomes of the Brokenhearted" by Jimmy Ruffin, and   "I Heard It Through the Grapevine" by Marvin Gaye. Uriel Jones and his fellow session musicians were paid what by today's standards would be considered slave wages for their invaluable contribution.
Uriel Jones was an African-American musician. Jones was a recording session drummer for Motown Records' in-house studio band, the Funk Brothers, during the 1960s and early 1970s.
Jones was first hired by Motown as a fill-in for principal drummer Benny Benjamin; along with Richard "Pistol" Allen, he moved up the line as recordings increased and Benjamin's health deteriorated. Jones had a hard-hitting, funky sound, best heard on the tracks for the hits "Ain't No Mountain High Enough" - both versions, by Marvin Gaye & Tammi Terrell in 1967 and the 1970 remake by by Diana Ross, "I Heard It Through the Grapevine" by Marvin Gaye, "Cloud Nine" by the Temptations (in which he was augmented by "Spider" Webb), Jr. Walker's "Home Cookin'," "I Second That Emotion" by Smokey Robinson & the Miracles, "For Once In My Life" by Stevie Wonder, and many more. His influences included Art Blakey. For his Motown recordings, Jones performed on a studio set comprised of Ludwig, Slingerland, Rogers and Gretsch components. Jones became better known to music fans through his memorable appearance in the feature documentary film, Standing In The Shadows Of Motown.
Jones came to Motown in 1964 after touring with Gaye, and recorded for Motown's enfant terrible on "Ain't That Peculiar," "I Heard it Through the Grapevine" and "Ain't No Mountain High Enough."
"Uriel's drum sound was the most open and laid-back, and he was the funkiest of the three guys we had," said Motown arranger Paul Riser. "He had a mixed feel and did a lot of different things well."
Motown's primary drummer was Benny Benjamin, but Jones and Richard "Pistol" Allen increasingly shared the duties as Benjamin was sidelined by drug addiction. Benjamin died in 1969. Allen succumbed to cancer in 2002 shortly after completing production on the Funk Brothers documentary "Standing in the Shadows of Motown."
The film, released to great acclaim in 2003, gave a new lease of life to Motown's forgotten session musicians. The band toured the world and won two Grammy awards. While Motown recordings utilized many musicians, the film focused on 13 players, of whom five were already dead. Just four Funk Brothers are alive now.
Jones is survived by his wife, June, and three children.
Last Updated on Friday, 22 June 2012 07:54