Wednesday, 25 March 2009 13:03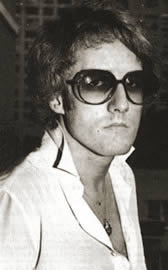 Gus Dudgeon
Born: 30 September 1942 Surrey, England
Died: 21 July 2002
Age: 59
Cause of death: Car accident near Reading.
Notable because: Produced several classic British recordings. Including 'Space Oddity' 'Goodbye yellow brick road' and 'Your Song'.
Gus Dudgeon was an English record producer.
After being sacked from eleven jobs Gus became a tea-boy at Decca's Olympic Studios in Baker Street, London. He was able to answer the right questions about using and repairing a tape recorder. It was only when he saw a photograph of Lonnie Donegan in the very studio where he worked that it started to thrill him. Despite having no musical training he progressed to sound engineer. He worked with Bruce Channel, Davy Graham and Shirley Collins. Early pop successes included The Zombies' "She's Not There" (1964) and John Mayall's Blues Breakers with Eric Clapton (1966). He helped in the auditions for Tom Jones and The Rolling Stones. By 1966 he was becoming bored. He was reprimanded by producer Denny Cordell for telling The Moody Blues that they had chosen the wrong sound mix for a song. Cordell initially didn't want to listen to Dudgeon's flat mix (simply subtracting all EQ and effects), but gave in, and agreed it was "ten times better" (a quote from Gus in an interview by Rick Clark from MIX magazine, probably his last, in 2002). Finally he became a co-producer on Ten Years After's debut album in 1967. Around this time he also produced the Bonzo Dog Band albums The Doughnut in Granny's Greenhouse and Tadpoles. Dudgeon produced two highly successful albums for Elkie Brooks: Pearls and Pearls Two.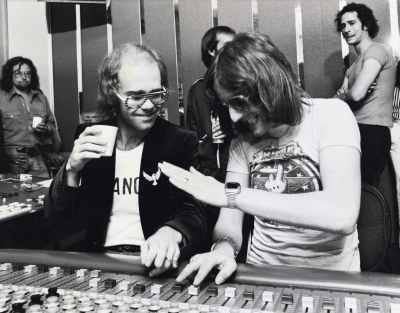 Encouraged by Andrew Loog Oldham he left Decca and founded his own company. When Tony Visconti was unhappy with David Bowie's guitar song "Space Oddity" Gus turned it into an epic. A rather nervous Elton John brought him "Your Song" in 1970. Gus rejected the piano accompaniment and recorded it with choir and orchestra. It reached the U.S. top ten, becoming John's first major hit. For the next twelve albums that Elton recorded, the pattern was established. Elton recorded the voice and piano, then left. Gus Dudgeon did the rest. Sometimes, as with "Daniel" the sound was simple. At other times, as with "Rocket Man", it was an extravaganza. Elton John and Gus Dudgeon together founded the Rocket Records label. Elton John joined on himself in 1976. Gus also did the sound mix for the Elton John / John Lennon concert at Madison Square Garden in 1974. Gus was also responsible for the mixing of the 80-plus member Melbourne Symphony Orchestra which toured Australia with Elton John in late 1986. The final show of the tour was released as a live album.
After the break-up with Elton John, Gus had difficulty establishing himself. He claimed that he used to go and see three new live bands every week. Whilst working with Elton, his other main priority was with Charisma Records band Audience but he now produced Chris Rea, Ralph McTell, Lindisfarne, Joan Armatrading, Elkie Brooks, Fairport Convention, The Sinceros, The Beach Boys and Steeleye Span. In the 1980s he built Sol Studios. He re-united with Elton John in 1984 for three more albums. Rejecting the dance scene, he started working with alternative bands such as XTC, Menswear, and The Frank and Walters. He managed a band called Slinki Malinki. He was always very supportive of new bands. In 1989 Gus Dudgeon produced debut solo-album of Thomas Anders (ex-Modern Talking). Once he started receiving royalties from Elton John records he started to realise that the 250 pounds that he had been paid by David Bowie was inadequate. He sued Bowie for a million pounds in 2002. The Guinness Book of Records recognised that he was the first person to use sampling. His production of John Kongos' hit "He's Gonna Step On You Again" (1971) used a tape loop of African tribal drumming. Gus was also founder of The Music Producers Guild.
He died in a car accident near Reading on 21 July 2002, together with his wife Sheila. He fell asleep at the wheel of his Jaguar XK8 convertible on a motorway on the way home to Surrey after a party, crashing down an embankment at speed and drowning in a ditch. Chumbawamba commemorated him in their song The Wizard of Menlo Park ("poor Gus Dudgeon lying in a car"), a paean to Thomas Edison and the history of audio recording.
Produced Elton Albums:
Empty Sky
·
Elton John
·
Tumbleweed Connection
·
Madman Across the Water
·
Honky Château
·
Don't Shoot Me I'm Only the Piano Player
·
Goodbye Yellow Brick Road
·
Caribou
·
Captain Fantastic and the Brown Dirt Cowboy
·
Rock of the Westies
·
Blue Moves
·
A Single Man
·
Victim of Love
·
21 at 33
·
The Fox
·
Jump Up!
·
Too Low for Zero
·
Breaking Hearts
·
Ice on Fire
·
Leather Jackets
·
Reg Strikes Back
·
Sleeping with the Past
·
The One
·
Duets
·
Made in England
·
The Big Picture
·
Songs from the West Coast
·
Peachtree Road
·
The Captain & the Kid
Manufacturer: Big Pig Music
Used From: $43.75
Buy Now
Editorial Review: Songs from the album by Elton John and Bernie Taupin.
Reviews
Manufacturer: MCA Records
Offers - Buy New From: $199.99
Used From: $4.50
Buy Now
Editorial Review: This is a 45 RPM 7" Single.
Reviews
Manufacturer: DKGE Mug
Offers - Buy New From: $10.98
Buy Now
Editorial Review: Shooting Star Platinum Style Double Walled Travel Tumbler,can Be Inserted Your Own Family Pictures, Inspirational Images, Or Favorite Team. To Promote Your Business With The Perfect Company Logo Tumbler.
Reviews
Offers - Buy New From: $8.53
Buy Now
Editorial Review: Show Off Your Love Of Shooting Star Platinum Style With This Soft And Absorbent Beach Towel. This Towel Features The Character Fashion And Stylish Design. Perfect For The Beach Or Pool! Great For Your Little One Or A Gift.
Reviews
Last Updated on Friday, 22 June 2012 07:58