Wednesday, 18 February 2009 17:17
Daniel Grayling Fogelberg
Born: August 13, 1951 Peoria, Illinois
Died: December 16, 2007 Deer Isle, Maine
Age: 56
Cause of death: Prostrate cancer
Notable because: Wrote and sang lovely songs of innocence.
Dan Fogelberg was an American singer, songwriter and multi-instrumentalist, whose music was inspired by sources as diverse as folk, pop, classical, jazz, and bluegrass music.
Dan Fogelberg, the youngest of three sons, was born in Peoria, Illinois, the son of Margaret (née Irvine), a classically trained pianist, and Lawrence Peter Fogelberg, a high school band director, who spent most of his career at Peoria Woodruff High School and Pekin High School. Dan Fogelberg's mother was a Scottish immigrant, and his father was of Swedish descent. His father would later be the inspiration for the song "Leader of the Band." Using a Mel Bay course book, Dan taught himself to play a Hawaiian slide guitar that his grandfather gave to him; he also learned to play the piano. He started his music career at age 14 when he joined his first band, The Clan, which paid homage to The Beatles. His second band was another cover combo, The Coachmen, who in 1967 released two singles on Ledger Records: "Maybe Time Will Let Me Forget" and "Don't Want To Lose Her." Another was the blues band Frankie and the Aliens, who toured regionally during the 1980s covering songs by Cream and Muddy Waters, among others.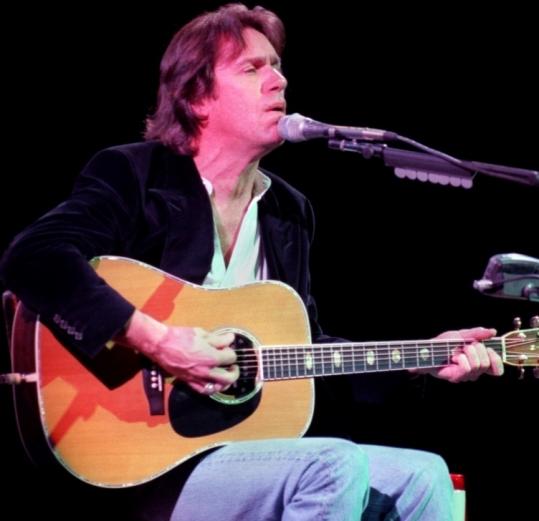 After graduating from Woodruff High School in 1969, he studied theater arts and painting at the University of Illinois at Urbana-Champaign and began performing as a solo acoustic player in area coffeehouses including the Red Herring Coffeehouse where he made his first solo recordings as part of a folk festival recording in 1971. There, he was discovered in 1971 by Irving Azoff. Fogelberg and Azoff—who started his music-management career promoting another Champaign-Urbana act, REO Speedwagon—moved to California to seek their fortunes. Azoff sent Fogelberg to Nashville to hone his skills. It was in Nashville that Dan became a session musician and recorded his first album with producer Norbert Putnam. In 1972, Dan released his debut album Home Free to lukewarm response. He performed as an opening act for pop-folk artists such as Van Morrison. Dan's second effort was much more successful—the 1974 Joe Walsh–produced album Souvenirs and its hit song "Part of the Plan" made him a major star.
After Souvenirs, Fogelberg released a string of gold and platinum albums, including Captured Angel (1975) and Nether Lands (1977), and found commercial success with songs such as "The Power of Gold." His 1978 Twin Sons of Different Mothers was the first of two collaborations with jazz flutist Tim Weisberg. 1979's Phoen
ix reached the Top 10, with "Longer" becoming a #2 pop hit and wedding standard in winter 1980. This was followed by his Top 20 hit "Heart Hotels."
The Innocent Age, released in October 1981, was Fogelberg's critical and commercial peak. This double album song cycle included four of his biggest hits: "Leader of the Band," "Hard to Say," "Run for the Roses," and "Same Old Lang Syne," based on a real-life accidental meeting with a former girlfriend (Jill Anderson). A 1982 greatest hits album contained two new songs, both of which were released as singles: "Missing You" and "Make Love Stay." In 1984, he rocked a little again with the album Windows And Walls, containing the singles "The Language of Love" and "Believe in Me."
Fogelberg released High Country Snows in 1985. Recorded in Nashville, it showcased his (and some of the industry's best) talent in the bluegrass genre. Vince Gill, Ricky Skaggs, Doc Watson, Jerry Douglas, David Grisman, Chris Hillman, and Herb Pedersen were among those who contributed to the record. In a world defined by "life in the fast lane," Fogelberg described the music as "life in the off-ramp." 1987 heralded a return to rock with Exiles, and 1990's The Wild Places was a tribute to Earth preservation. In 1991, he released the live album Greetings from the West.
River of Souls, released in 1993, was Fogelberg's last studio album for Sony Records. In 1997, Portrait encompassed his career with four discs, each highlighting a different facet of his music: "Ballads," "Rock and Roll," "Tales and Travels" (which displayed his talents as a narrative songwriter), and "Hits." In 1999, he fulfilled a career-long dream of creating a Christmas album, with his release of First Christmas Morning, and in 2003, Full Circle showcased a return to the folk-influenced, 1970s soft rock style of music for which he and other singer-songwriters from his era had gained popular recognition.
Fogelberg also used his music to address social issues, including peace and Native American concerns. He was particularly outspoken about his commitment to the environment and to finding alternatives to nuclear power. To that end, Fogelberg included "Face the Fire" on the Phoenix album and performed at a number of the Musicians United for Safe Energy "No Nukes" concerts in 1979 and 1980.
His live concerts won acclaim across the nation over the years. Fogelberg said that one of his proudest moments came in 1979 when he played New York City's Carnegie Hall for an audience including his mother and father. Most summers, Fogelberg would perform with a full band or in a solo acoustic setting; the formats allowed him to show the breadth and depth of his talent as a singer, guitarist, pianist, and bandleader. In 2002, fans showed their appreciation by choosing Fogelberg as one of the first-10 inductees into the Performers Hall of Fame at the Red Rocks Amphitheatre in Morrison, Colorado.
In May 2004, Fogelberg was diagnosed with advanced prostate cancer. He underwent therapy and achieved a partial remission, which did not eliminate his cancer but reduced it and stopped its spread. On August 13, 2005, his 54th birthday, Fogelberg announced the success of his cancer treatments, and he thanked fans for their support. He said that he had no immediate plans to return to making music but was keeping his options open and enjoying spending time with his wife, musician Jean Fogelberg.
Fogelberg maintained residences in Deer Isle, Maine, and at Mountain Bird Ranch, a 610-acre (2.5 km2) property near Pagosa Springs, Colorado, that he bought in 1982. The ranch was put up for sale in 2005.
After battling prostate cancer for three years, Fogelberg succumbed to the disease on December 16, 2007, at his home in Maine with his wife, Jean, by his side.
Soon after his death, Jean announced that a song written and recorded for her by Fogelberg for Valentine's Day 2005, "Sometimes a Song," would be sold on the Internet and that all proceeds would go to the Prostate Cancer Foundation. The song was released on Valentine's Day 2008. She further announced that this song would be included in a collection of eleven previously unpublished songs (nine originals) that will be released later in 2008 on a CD that Dan titled "Love In Time."
In tribute to Fogelberg, the city of Peoria renamed Abingdon Street in the city's northside Dan Fogelberg Parkway. The street runs along the outside of Woodruff High School, Fogelberg's alma mater.
A Dan Fogelberg signature edition

Martin D41-DF

guitar was issued in 2001.
"Run For The Roses" was written for the 1980 Kentucky Derby.
Two of his songs have been used in feature films: "There's a Place in the World for a Gambler" (originally on Souvenirs) can be heard in the 1978 film FM; and "Times Like These" was used in the 1980 film Urban Cowboy, a year before it appeared on The Innocent Age.
In a Bloom County

comic strip

, the character Lola Granola confesses to having a tattoo of Dan Fogelberg's face. Her boyfriend, Opus the Penguin, is oblivious and refers to him as "Dan Fogerburp."
In BASEketball, the deceased owner of "The Beers" refers to Joe Cooper and his generation as fans: "You kids today with your loud music and your Dan Fogelberg, your Zima, hula hoops, and Pac-Man video games!"
In a fifth-season episode of The King of Queens titled "Kirbed Enthusiasm," Deacon beseeches Doug to help him get his son Kirby interested in football and toughen him up because he believes that his wife, Kelly, is causing their son to be too soft and too sensitive. While the other kids are practicing on the field and Deacon is complaining to Doug, Kirby is in the car "listening to Dan Fogelberg!"
In No Cure for Cancer, comedian Denis Leary suggests suing Fogelberg and James Taylor for turning him soft in the 1970s, based on the legal precedent of the lawsuit filed by the parents of the two young men who allegedly killed themselves after listening to Judas Priest.
Jay Leno cited Same Old Lang Syne as one of his favorite holiday songs.

Houston, Texas

,

Rapper

"Magnificent" states, "I'm the leader of the band, like Fogelberg." Amusingly, Fogelberg's song "Leader of the Band" was written for and described his father, Lawrence Fogelberg.
David Archuleta sang "Longer" in the semifinals of the seventh season of American Idol in 2008.
"The Power of Gold" was used by ABC as a theme for their pre-Olympics special in 1980.
During an episode of

Triple M

's Get This Ed Kavalee asked if, were Tony Martin to be like Crosby in a fictional band, he could be Stills. Martin replied, "You can be Stills if you want... You can be Dan Fogelberg."
Last Updated on Friday, 22 June 2012 07:54