Thursday, 23 October 2008 15:22
Aaliyah Dana Haughton

Born: January 16, 1979, Brooklyn, New York City, New York, United States

Died: August 25, 2001, Marsh Harbour, Abaco Island, Bahamas

Age: 22

Cause of death: Plane crash

Notable because: Allegedley married singer R Kelly in  1995 when she was 15 and he 27. At the time both camps denied the marriage but Vibe magazine published a copy of their marriage license which showed Aaliyahs age had been falsy listed at 18. The marriage was annulled a few months later.

Aaliyah was a Grammy-nominated American singer, dancer, actress, model, and teen idol. Introduced to audiences by R&B singer R. Kelly, Aaliyah became famous during the mid-1990s with several hit records from the songwriting/production team of Missy Elliott and Timbaland. She found success with her first album Age Ain't Nothing but a Number, while introducing a "street but sweet" look which would become her trademark throughout her career.

In addition to her commercial success, her collaborations with Timbaland helped shape the sound of R&B in the latter half of the 1990s. She also modeled for Tommy Hilfiger and starred in two motion pictures, Romeo Must Die, and Queen of the Damned, before her death in a plane crash in the Bahamas on August 25, 2001. Since then, Aaliyah has received much commercial success with hit singles like Miss You, and I Care 4 U. Despite her short career she has over 10 Top 25 hit singles on the Billboard Hot 100 including the #1 hit "Try Again" which became the first song in history to top the Billboard Hot 100 only on airplay.

Aaliyah Dana Haughton was born in Bedford-Stuyvesant, a neighborhood of Brooklyn, New York City, New York to Michael and Diane Haughton. Her maternal grandmother, Mintis L. Hicks Hankerson, gave her the middle name Dana. Her name means "Highest, Most Exalted, The Best" in Arabic. In Hebrew her name means ascent and is not used as a name. Aaliyah was raised as a Roman Catholic with her older brother Rashad Haughton. Diane Haughton, Aaliyah's mother, was also a vocalist and encouraging of her daughter's career.

At age 5, Aaliyah and her family moved to Detroit, Michigan. In 1989, she appeared on the TV talent show Star Search at age 10, singing her mother's favorite song, "My Funny Valentine". Although she did not win, she continued to perfect her skills. Aaliyah worked with an agent in New York and auditioned for TV shows, including Family Matters.

Aaliyah attended the Detroit School of Arts and graduated in 1997 with a 4.0 GPA.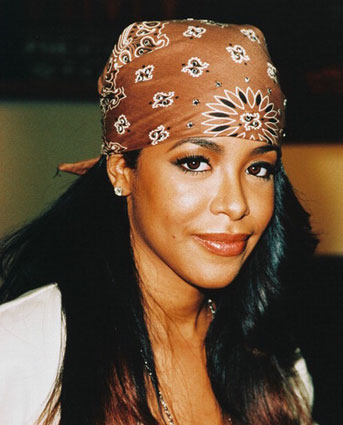 Aaliyah signed with her uncle Barry Hankerson's Blackground Records label in 1993 at the age of 14. She released her debut album, titled Age Ain't Nothing but a Number, in 1994 at the age of 15 years old. R. Kelly acted as Aaliyah's mentor and he was a leading songwriter and producer on her debut album, which went platinum within months. The album featured the gold-selling singles "Back and Forth" (#1 Hot R&B/Hip-Hop, 3 weeks and #5 Hot 100 ), "At Your Best" (#2 Hot R&B/Hip-Hop and #6 Hot 100), a cover of The Isley Brothers' 1976 song, the album-titled single "Age Ain't Nothing but a Number" (#75 Hot 100 and #25 Hot R&B/Hip-Hop, 2 weeks), and "Down with the Clique" (#12 Hot R&B/Hip-Hop Airplay, 3 weeks). In June 1995, Aaliyah released another single to radio only, "No One Knows How to Love Me Quite Like You Do." A track on the album entitled "Street Thing" proved that she had great range and power in her voice. The album has sold over 2.5 million copies in the U.S. to date and nearly 6 million worldwide.
One in a Million, Aaliyah's sophomore album, was chiefly written and produced by then unknowns Missy Elliott and Timothy "Timbaland" Mosley and released on August 27, 1996 when she was 17 years old. The album was a landmark in Aaliyah's career, garnering her mass critical acclaim and introducing Aaliyah's more mature side. It embarked on the newfound chemistry of Aaliyah and Timbaland. The album was certified double-platinum within a year, making Aaliyah a major R&B star and igniting the successful careers of Missy Elliott and Timbaland. One in a Million featured the international smash hit "If Your Girl Only Knew" (number one U.S. R&B, 2 weeks and #11 Hot 100), "One in a Million," (#1 U.S. R&B airplay, six weeks), the #8 U.S. R&B and #9 Hot 100 single "The One I Gave My Heart To," a ballad written by Diane Warren, "4 Page Letter" (#1 U.S. R&B Airplay, three weeks), "Hot Like Fire" (two versions) (#16 Radio-Play), and "Got To Give It Up" (#6 Hot 100).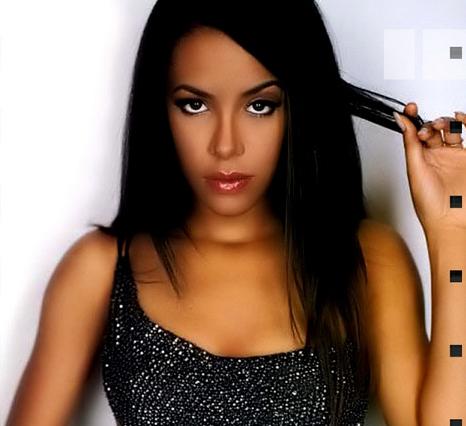 Tommy Hilfiger gave Aaliyah her first endorsement deal. He signed Aaliyah onto print campaigns, runway shows, and a commercial. During this period, Aaliyah would also make guest appearances on albums by artists such as Missy Elliott, Timbaland & Magoo, Ginuwine and Playa. Timbaland and Playa's frontman Static Major remained Aaliyah's principal collaborators for the duration of her career. To date, One in a Million has sold over 3 million copies in the U.S. and over 11 million worldwide.
In 2001, Aaliyah returned to the music scene with her first full length studio album in nearly 5 years. Aaliyah's self-titled third album was released on July 17, 2001, and was hailed as the singer's most mature album to date. Album tracks incorporated elements of neo soul, funk, electropop, power pop, urban pop and heavy metal music.
The album debuted at #2 on the Billboard charts, going gold in just 4 weeks. Nearly all of its tracks were written by Steve "Static Major" Garrett, with Missy Elliott contributing the album's fourth single, "I Care 4 U". "Aaliyah" won two posthumous American Music Awards in 2002 for "Favorite Female R&B Artist", and "Favorite R&B/Soul Album". The album has sold 4 million in the U.S and 12 million worldwide.
On August 25, 2001, at 6:50 pm (EST), just after finishing filming of the music video to "Rock the Boat", Aaliyah and various members of her record company boarded a twin engine Cessna 402B (N8097W) at Marsh Harbour, Abaco Island, Bahamas to travel to Opa-locka Airport near Miami, Florida. The crew had a flight scheduled the next day, but since the video wrapped early, Aaliyah and her entourage were eager to return to the US despite Aaliyah's family telling them to wait. Aaliyah was desperate to get back so they demanded that their heavy equipment from the shoot be on the plane rather than leave it behind which resulted in the aircraft being well beyond the standard weight and balance tolerance provided by Cessna.
The plane crashed shortly after takeoff about 200 feet (70 m) from the runway. Aaliyah, pilot Luis Morales III and the seven other passengers, including her hair stylist Eric Foreman, Anthony Dodd, her security guard Scott Gallin, Douglas Kratz (a director of video production for Virgin Records), stylist Christopher Maldonado, Keith Wallace and Gina Smith (both employees of the Blackground label) were killed.
According to findings from an inquest conducted by the coroner's office in the Bahamas, Aaliyah suffered from "severe burns and a blow to the head", in addition to severe shock. The coroner theorized that, even if Aaliyah had survived the crash, her recovery would have been virtually impossible given the severity of her injuries.
Aaliyah's funeral was held on August 31, 2001 at Saint Ignatius Loyola Roman Catholic Church in Manhattan, New York City. She was interred at the Rosewood Mausoleum in Ferncliff Cemetery, Hartsdale, New York.
The NTSB report stated "The airplane was seen lifting off the runway, and then nose down, impacting in a marsh on the south side of the departure end of runway 27."
It also indicated that the pilot, Luis Morales III, was not approved to pilot the plane he was attempting to fly. Morales falsely obtained his FAA license by showing hundreds of hours never flown, and he may also have falsified how many hours he had flown in order to get a job with his employer, Blackhawk International Airways. Additionally, an autopsy performed on Morales revealed traces of cocaine and alcohol in his blood.
Further investigations determined the plane was over its total gross weight by several hundred pounds. Eddie Golson, president of Pro Freight Cargo Services at Opa-locka Airport, said workers carted "a pickup truck of freight" from the crash site. Two of the passengers weighed in the region of 300 pounds and sat in the rear of the plane, where the baggage was also stored.
The NTSB report stated that "the total gross weight of the airplane was substantially exceeded." In addition, with heavy passengers and cargo in the back, the center of gravity was pushed too far aft. This caused an uncontrollable nose-up attitude, leading to a stall.
The day of the crash was Morales' first official day with Blackhawk International Airways, an FAA Part 135 single-pilot operation. In addition, Luis Morales III was not registered with the FAA to fly for Blackhawk. As a result of the accident, a wrongful death lawsuit was filed by Aaliyah's parents and was later settled out of court for an undisclosed amount.
Barry & Sons, Inc., a corporation formed in 1992 to develop, promote and capitalize on the musical talents of Aaliyah and to oversee the production and distribution of her records, tapes and music videos, brought an unsuccessful lawsuit in the Supreme Court of the State of New York against Instinct Productions LLC, (a company hired by Barry & Sons, Inc. in August 2001 to produce the "Rock the Boat" music video). The case was dismissed since New York State's wrongful death statute only permits certain people to recover damages for wrongful death.
Early in her career, she appeared on the Nickelodeon series All That performing "Age Ain't Nothing But a Number". She returned again in 1996 to perform her hit "One in a Million". She appeared as herself on a 1994 episode of the gritty cop drama New York Undercover.
She also garnered much success from her songs being featured on movie soundtracks. In 1997, Aaliyah appeared on the soundtrack album for the Fox Animation Studios animated feature Anastasia, singing the pop version of "Journey to the Past". The song was nominated for an Academy Award, and Aaliyah performed the song at the 1998 Academy Awards ceremony, becoming the youngest singer to perform at the ceremony.
In 2000, Aaliyah landed her first major movie role in Romeo Must Die, which debuted at number one at the box office. A loose adaptation of Shakespeare's Romeo and Juliet, Aaliyah starred opposite martial artist Jet Li, playing a couple who fall in love amid their warring families. In addition to acting, Aaliyah and Timbaland executive produced the film's soundtrack album and she contributed four songs: "Are You Feelin' Me?", "I Don't Wanna", "Come Back in One Piece," a duet with DMX which landed at #2 on BET's "Notarized" Top 100 videos of 2000, and the international number one hit "Try Again."
Aaliyah made history when "Try Again" became the first song to ever reach number one on the Billboard Hot 100 based solely on the strength of its radio airplay, without any single sales factored in. After the huge success of "Try Again" on radio, a 12" maxi single was released for consumer purchase. "Try Again" landed at #1 on BET's "Notarized" Top 100 Videos of 2000. The radio-only single, "I Don't Wanna", (which was also featured on the soundtrack for the film Next Friday) peaked at number five on the Billboard Hot R&B/Hip Hop Singles & Tracks chart. In 2001, Aaliyah went to Australia to co-star with Stuart Townsend in the vampire film The Queen of the Damned, an adaptation of the Anne Rice novel of the same name.
Looking ahead, Aaliyah had a supporting role in the two sequels to The Matrix as Zee, the wife of Harold Perrineau Jr.'s character, Link. The directors initially tried to find a way to incorporate her footage into the movies but decided against it due to lack of material available. The role was recast with Nona Gaye playing the role. In 2004, The Matrix was released to DVD, tributes and footage of Aaliyah were found inside the special features.
Other films in which Aaliyah was signed to appear were Honey (Jessica Alba was eventually cast as the main character), a role in the movie State Property 2 (which was recast with Mariah Carey), and a Whitney Houston-produced remake of the 1976 film Sparkle which was canceled in 2007.
"Rock the Boat" went on to become a posthumous hit on radio (reaching number two on Billboard's Hot R&B Singles charts, number 14 on the Hot 100, and number 12 in the UK) and video channels, and the news of Aaliyah's death gave her album a notable sales boost, pushing it to number one on the Billboard 200. The album produced two other singles: "More Than a Woman" reached number seven on Billboard's Hot R&B singles chart, number 25 on Hot 100, and number 1 in the UK, and at number 11 on BET's "Notarized" Top 100 videos of 2002. "I Care 4 U" reached number three on Billboard's Hot R&B singles chart and number sixteen on the Hot 100, the latter attaining success even without the promotional push of a music video. The Aaliyah album has gone on to sell over seven million copies worldwide.
Her last film Queen of the Damned was released in early 2002. Before its release, Aaliyah's brother Rashad Haughton was called upon to re-dub several of his sister's lines during the post-production ADR process. Upon its release, the film debuted at number one. The film was dedicated to her memory.
Aaliyah and former Beatle George Harrison made UK Chart history in January 2002 when they scored the first, and to date, only back-to-back posthumous number one hits (aside from the Elvis Presley re-releases in 2005). Aaliyah's "More than a Woman", released on January 7 and topped the chart on January 13, was followed by Harrison's "My Sweet Lord", re-released on January 14 and topped the chart on January 20.
Aaliyah was voted one of "The Top 40 Women of the Video Era" in VH1's The Greatest, also ranked number 36 on their list of the 100 Sexiest Artists. Aaliyah also made E!'s list on the 101 Most Shocking Moments in Entertainment, Juiciest Hollywood Hookups, and Best Kept Hollywood Secrets. Aaliyah recently ranked at number 18 on BET's "Top 25 Dancers of All Time" and ranked at number four on BET's "Top 25 Sexiest Women of all Time".
Aaliyah has been the topic of four books: Aaliyah: More than a Woman (2001) by Christopher John Farley, Aaliyah: An R&B Princess in Words and Pictures (2002) by Kelly Kenyatta, Aaliyah by Tim Footman (2003), and Aaliyah Remembered: Her Life & The Person behind the Mystique (2005) by William Sutherland.
Her family created The Aaliyah Memorial Fund which will donate money raised to charities Aaliyah supported. Aaliyah's Cancer Awareness Angels participate in a Revlon Run Walk in which Aaliyah herself once participated.
Aaliyah has been featured on the covers of Fader and People magazines in 2008.
The name "Aaliyah" did not appear on the Social Security Administration's popular baby names list for girls until 1994, the year of Aaliyah's debut album. However, it entered the top 100 of that list in 2001, the year of her death; it has remained there every year since, through the most recent list (2007). As of August 2008, Aaliyah's official Myspace music page is ranked #1 in the world on the top neo-soul artist chart, with the Aaliyah tribute page ranked at #3. The music page has received close to 14 million plays as of 15 August 2008. 
Castings for the biographical Movie of Aaliyah's Life has been finalized. It is not yet confirmed of when the movie will wrap or when it will be released.
Last Updated on Saturday, 28 March 2009 12:54