Thursday, 19 February 2009 10:09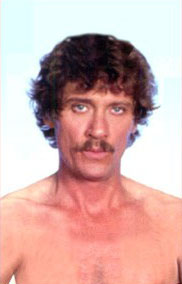 John Curtis Holmes
Born: August 8, 1944 Ashville, Ohio, U.S.
Died: March 13, 1988 Sepulveda, CA 
Age: 43
Cause of death: Aids related symptoms
Notable because: In his time the most famous male porn star in the world, partly as a result of his well endowed stature. Developed a severe cocaine habit which controlled his life choices, contracted aids and died young. Appeared with the top names in the Porn business including Marilyn Chambers, Seka, Linda Lovelace, Cicciolina, Ginger Lynn and Traci Lords
 John  Holmes or Johnny Wadd (after the lead character in a series of related films), was one of the most famous male adult film stars of all time, appearing in about 2,500 adult loops, stag films, and porno feature movies in the 1970s and 1980s, including at least one gay feature film and a handful of gay loops. He was best known for his exceptionally large penis, which was heavily promoted as being the longest in the porn industry; however, its exact dimensions are unknown, it was detailed, by Holmes himself, in an interview in "Screw" magazine to be 16.5 inches (41.66 centimeters). Holmes also attracted notoriety for his involvement in the Wonderland murders in 1981, and for his death from complications caused by AIDS.
Holmes was the subject of a long article in Rolling Stone magazine in 1989 and a feature length documentary, and the inspiration for two Hollywood movies (Boogie Nights and Wonderland). A definitive biography, John Holmes: A Life Measured in Inches, was released on August 8, 2008.
Born John Curtis Estes in Ashville, Ohio, he knew very little of his father Carl Estes, an alcoholic railroad worker who abandoned the family when John was an infant. John's mother, Mary Barton, was a religious fanatic and a devout Southern Baptist, who regulary attended the Milport Chapel Church along with her children.
In 1946, John's mother married Harold Edward Holmes, and changed her children's surname to Holmes. His stepfather was an alcoholic, who would come home inebriated, stumble about the house, and even vomit on the children. Mary Holmes divorced her husband two years later, and moved with her children to Columbus, Ohio, where they lived on welfare for several years. When John was eight, his mother remarried to Harold Bowman. Shortly after, John and his family moved from Columbus and settled in Pataskala, Ohio.
By the time John reached adolescence, Bowman began beating him, but the strapping teenager instead fought back and decked Bowman, sending him down a staircase. John ran away from home at age 16, and after several days of living in the streets, he returned to his home and told his mother that if he stayed in the house much longer he would kill Bowman. After asking for the permission of his mother, Holmes dropped out of high school in his junior year and enlisted in the Army. After advanced training at Fort Gordon, Georgia, he spent three years in West Germany in the Signal Corps. Upon his discharge, Holmes moved to Los Angeles where he worked in a variety of jobs, including selling goods door to door and tending the vats at a Coffee-Nips factory. It was during his stint as an ambulance driver that he met a nurse named Sharon Gebenini in December 1964. They married in August 1965.
"John Holmes was to the adult film industry what Elvis was to rock 'n' roll. He simply was The King."

—Cinematographer Bob Vosse in the documentary Wadd: The Life and Times of John C. Holmes.

 
For the next two years, Holmes and Sharon lived quiet, uneventful lives. Holmes found work as a forklift driver at a meat packing warehouse in Cudahy, California. However, the rigors of driving the forklift truck in and out of a large walk-in freezer and repeated exposures to inhaling the sub-freezing air in the freezer after being outside inhaling the desert-hot air caused severe health problems, leading to a pneumothorax (lung collapse) of his right lung on three separate occasions within the period of seven to nine months during the two years he worked there. While recovering from his illness, Holmes frequented a men's card-playing club in Gardena, where one evening, a still photographer standing next to him at a restroom urinal, noticed his extraordinary penis size and encouraged him to do pornography. During the late 1960s, Holmes initially did magazine work and an occasional 8 mm loop, keeping his work in porn a secret from his wife. This was easier to do in those days; pornography production and distribution were semi-clandestine, there was no mass production of video cassettes or DVDs, and no Internet.

While the ad copy for his first few dozen loops rarely named him, those that did usually gave him a name that was nowhere near what his real first name was. In fact, one early "Swedish Erotica" brochure from 1973 has five Holmes loops listed, each of which has a different name referring to Holmes even though it is obvious from his facial features that "Fred", "Dave", "Rudy", "Big Dick", and "Stan" are all the same person.

In the early years of his porn career, Holmes was referred to as "The Sultan of Smut".

With the success of Deep Throat (1972), The Devil in Miss Jones (1973), and Behind the Green Door (1972), porn had become chic although its legality was still hotly contested. Holmes was arrested during this time for pimping and pandering, but he avoided prison time by becoming an informant for the LAPD.

In 1973, Holmes' career began to rise with a porn series built around a private investigator named Johnny Wadd. By 1978, Holmes was reputed to be earning as much as $3,000 a day as a porn actor. He starred at a time when personality could compensate for a lack of other aesthetic characteristics, and a certain amount of acting ability was still demanded of porn stars on a level that is not often necessary in today's porn films.

While his voice was arguably somewhat higher in pitch than one would expect for a "hard-boiled private dick," most film critics and fans agreed that Holmes did demonstrate enough acting ability to keep the character of "Johnny Wadd" from being merely a banal, one-dimensional parody of Raymond Chandler's creation, the tough and uncompromising private detective Philip Marlowe. By this time, his use of cocaine was becoming a problem, so much so that it was beginning to affect his ability to maintain an erection. His inability to maintain an erection actually stemmed from diminishing neural connections in his posterior hypothalamus, the control center for erections.
Holmes' drug use began to seriously affect his ability to perform in porn and compromised his ability to secure work, so to support himself and his drug habit he ventured into crime, selling drugs for gangs, prostituting himself to both men and women, and committing credit card fraud and petty theft. In 1976, he met a 16-year old girl, Dawn Schiller, who became his girlfriend. After Holmes fell on hard times, he later prostituted both her and himself. Dawn, who appeared in news stories as "Jeana Sellers"  after Holmes allegedly once publicly beat her in Florida, is not to be confused with Holmes' second wife, Laurie Rose, a porn actress and so-called anal sex queen who was sometimes called Misty Dawn.
Holmes developed a close friendship with drug dealer and nightclub owner Eddie Nash, who supplied Holmes with drugs he desired, principally cocaine.
Nash is most infamous for his alleged involvement in the quadruple Wonderland Murders in 1981 which might have resulted from a robbery of Nash's home perpetrated two days earlier by three to five men. John Holmes was a  key player in the incident. Nash enjoyed introducing his associates to Holmes, who was notorious for his recurring cinematic role of "Johnny Wadd."
However by 1981, Holmes' star had fallen and he became desperately addicted to freebasing cocaine. In order to settle a drug debt he owed to one of his drug connections, Ron Launius, leader of the widely feared Wonderland Gang which dominated the LA cocaine trade in 1981, he conspired to invade Nash's home and commit a robbery in which Nash and his bodyguard were brutalized and humiliated. Two days later Launius and three other people were found bludgeoned to death at their home at 8763 Wonderland Avenue in Laurel Canyon. Holmes was spared.Murdered in the incident were Ron Lanius, Billy Deverell, Joy Audrey Gold Miller, and Barbara Richardson. Critically injured was Susan Lanius, Ron's wife. Officials from the LAPD remarked that the scene was bloodier than the Tate/LaBianca murders.
A police search of Nash's home days after the murders revealed a large amount of cocaine. Nash was sentenced to 8 years in prison, but a judge released him after 2 years, purportedly for health reasons. An associate of Nash's later admitted that they had bribed the judge with about $100,000. (Goldsmith 2001)
In 1990 Nash was tried in state court for having planned the murders; the trial resulted in an 11-1 hung jury; Nash would later admit that he had bribed the lone holdout, a young woman, with $50,000. The retrial ended in an acquittal.
According to John C. Holmes' second wife Laurie (aka Misty Dawn) in a Playboy magazine interview : "He (Eddie Nash) was an awful man... John told me he used to leave the bathrooms without toilet paper, then offer the young women cocaine if they'd lick his ass clean." 
Throughout the 1990s, law enforcement figures continued to hound Nash, who had been referred to in various print media as "the one who got away". In 1995, in a broad series of raids targeting alleged organized crime figures, federal agents armed with search warrants raided his house and confiscated what was thought to be a cache of methamphetamine. To the chagrin of law enforcement the "meth" turned out to be a cache of mothballs and no charges were filed against Nash.
In 2000, after a four-year joint investigation involving local and federal authorities, Nash was arrested and indicted on federal charges under the RICO act for running a drug dealing and money laundering operation, conspiring to carry out the Wonderland Murders, and bribing one of the jurors of his first trial. Nash, already in his seventies and suffering from emphysema and several other ailments, agreed to a plea bargain agreement in September 2001, pleading guilty to RICO charges and to money laundering. He also admitted to jury tampering (for which the statute of limitations had run out) and to having ordered his associates to retrieve stolen property from the Wonderland house, which might have resulted in violence including murder, but he denied having planned the murders that took place. He also agreed to cooperate with law enforcement authorities. He received a four and a half year prison sentence (including the time already served) and a $250,000 fine. (LAPD 2002)
Released in 2002 (MacDonell 2003), as of 2009[update] Eddie Nash is a free man and lives in Los Angeles.
Holmes was incarcerated in connection with the murders, but released due to lack of evidence. He spent six months on the run with Dawn Schiller, his girlfriend, but was arrested in Florida and returned to Los Angeles. Holmes refused to co-operate with the investigation and was eventually charged by the authorities with committing all four murders in connection with the robbery, but was acquitted.
Holmes then sought to reunite with Dawn Schiller, but she had gone with her father to Thailand, where she lived for nearly seven years. She did not return to Los Angeles until several weeks before Holmes' death in 1988.
When Holmes resumed work in porn in November 1982, the industry had already begun the transition from film to videotape. Work was still plentiful, but less lucrative and Holmes was no longer the premier male star. His drug use continued, as did the inconsistent performances on set. His inability to maintain an erection was a serious issue, and employers began opting for younger and more attractive talent—who could perform.
In 1985 he met his future girlfriend and wife, Laurie Rose, a.k.a. Misty Dawn, a porn actress whose sexual specialty was anal sex. Rose and Holmes met on the set of the film Marathon. Holmes chronicler and confidante Bill Amerson states that Rose commented, "I want to have all that up my butt" (referring to Holmes' penis) and, in fact, off-camera that did happen and Holmes and Rose became a couple from that point forward.
In February 1986, Holmes was diagnosed as HIV positive. According to Laurie Rose, Holmes claimed that he never used needles and was deeply afraid of them. Both his first wife, Sharon, as well as Bill Amerson, separately confirmed later that Holmes could not have contracted HIV from intravenous drug use because Holmes never used needles.
During the last two years of his life, Holmes went on a suicidal decline when Amerson later confirmed that John Holmes continued his drug use of sniffing cocaine as well as freebasing, as well as escalating his smoking of cigarettes and his alcohol consumption which may have sped up the development of his AIDS infection. During the summer of 1986, unable to find work in America, Holmes traveled to Italy where he filmed his last porno movies, one of which was titled The Rise and Fall of the Roman Empress which starred the infamous Italian Parliament member Ilona 'Cicciolina' Staller. He also continued to make public appearances at autograph signings as well as hosting video clips during 1986 and 1987, until his increasingly gaunt physical image began to give away the true nature of his health.
Not wanting to reveal the true nature of his failing health, Holmes claimed to the press that he was suffering from colon cancer. Holmes married Laurie Rose on January 24, 1987 when they supposedly eloped to Las Vegas for a quickly wedding after he confided in her that he had AIDS and wanted to marry her to cement their bond despite both of them aware that he was dying from AIDS.
During the last four months of his life, he was more or less bed-ridden constantly going to hospitals for treatment, though some sources said that he refused treatment and just wanted to die quickly. John Holmes died from AIDS-related complications (according to his death certificate, cardiorespiratory arrest and encephalitis due to AIDS, associated with lymphadenopathy and esophageal candidiasis) on March 13, 1988 at the age of 43. His body was cremated, and his ashes were scattered at sea off the coast of Oxnard, California.
Holmes' widow, Laurie Rose, took the name Laurie Holmes and later published the book Porn King: Autobiography of John C. Holmes in 1998.
The legacy of John Holmes has become more renowned and publicly acceptable. A documentary on his wild life (Wadd—The Life and Times of John C. Holmes) has achieved cult status among certain late-night college campus independent film houses, and some elements of the film Boogie Nights were based on Holmes' life, including the Laurel Canyon "Wonderland" murders. That aspect of his life was presented in a biographical movie called Wonderland, starring Val Kilmer and released on October 17, 2003.
Elio e le Storie Tese paid homage to Holmes with one of their first hits titled "John Holmes (Life Devoted To The Cinema)," included on their debut album Elio Samaga Hukapan Kariyana Turu, released in 1989.
After his death, Holmes was awarded the Lifetime Achievement Award by the Adult film industry. It was accepted posthumously by his godson Sean Amerson, the son of Holmes' career-long manager Bill Amerson, who also delivered the eulogy at Holmes' funeral services.
Of the 2,500 porn film appearances John Holmes made in his lifetime, at least 60 to 70 percent of them are one-reel 8mm loops or stag films. Since the majority of Holmes' loops and stag films have gone into public domain following the collapse of Caballero Control Corporation in 1990, there are efforts underway to locate all surviving 8 mm loops starring Holmes that he made during the 1960s, 70s, and 80s and convert them to DVD for posterity. However, since the life expectancy of most 8mm films is very brief (due to the nature of the film stock used at that time), it is believed that the majority of Holmes' loops are forever lost.
Penis length was not the only questionable statistic used in connection with Holmes. In 1981, he began to claim that he had sex with 14,000 women. To substantiate this number, and assuming Holmes' first experience with a woman occurred at 16 as he claimed, then he would have to have had sex with 700 different women a year—1.9 women a day—for the next 20 years. More realistic estimates, such as that of Luke Ford, put the figure at around 3,000. Based on the number of loops where Holmes did in fact perform a sexual act with at least one woman, allowing for off-camera sexual encounters, and counting each performing partner only once—some actresses, such as Seka, Connie "Little French Maid" Peterson, Eileen Welles, Victoria Waters, Candy Samples, Linda McDowell, Juliet "Aunt Peg" Anderson, and Desireé Cousteau, made many loops with Holmes in the 1970s—Ford's more modest estimate of 3,000 is closer to being realistic.
According to Holmes' close friend Bill Amerson in the documentary Wadd, Holmes lost track of the exact number of women with whom he had made love. According to Amerson, Holmes became so fervent in spreading false publicity about himself that he also eventually lost track of what stories were true and which were lies; at one point in Wadd, Amerson recalls that early in his career Holmes told the press that a wealthy British socialite paid him to travel to England once a year and pleasure her for twenty-four hours. Later in life, Holmes fondly recalled to Amerson his adventures in England, which never occurred.
Holmes met fellow porn star Brandon Smith in 1974, and the two formed a friendship that lasted until Holmes was accused of involvement in the Wonderland murders.
Brandon Smith ended up being a huge influence on gay porn and was said to be one of the reasons Holmes ended up doing gay films.
While estimates of his on-screen and professional sex partners range in the thousands, it appears that there were perhaps four or five women who actually were close to Holmes in his private life. Holmes was reputedly meticulous in keeping his professional and private lives separate.
In August 1965, he married a young nurse named Sharon Gebenini. He remained married to her until their divorce was finalized on January 17, 1983.
In 1975 he met Julia St. Vincent on the set of his blockbuster film, Liquid Lips, which was being produced by her uncle,

Armand Atamian

. Holmes and St Vincent stayed close until 1981 and the Wonderland affair. St Vincent produced the ersatz biographical film of Holmes' life, Exhausted.
In 1976 he met a 16-year-old girl named

Dawn Schiller

, who was his girlfriend from 1976 through the Wonderland incident in 1981. She left Holmes in December 1981, when she turned him in to the police in Florida.
In 1985 Holmes met his second wife, Laurie Rose. They married on January 24, 1987.
Holmes' main asset in the porn business was his exceptionally large penis. Holmes' first wife, Sharon Gebenini, recalled him claiming to be 10 inches (25.4 cm) when he first measured himself. However, at the start of his cinematic career, he was widely publicized as having a penis ranging from 12.5 to 16 inches (32–41 cm) long when fully erect. "It is the size of two and one half 6 inch rulers," as John Holmes once claimed in a video shoot.
Ron Jeremy has stated that Holmes was actually 11½ inches and used to brag that he was 14 inches.
So celebrated was Holmes' reputed penis size that it was even used as a marketing tool for films in which he did not even appear. In the porn classic Anyone But My Husband, the promotional tag line read "Tony The Hook Perez has a dick so big that he gives even John Holmes a run for his money."
Different attempts to ascertain the actual length of his penis have led to varying results. An American study of video footage of Holmes' penis concluded his penis was 10–11 inches long (25–28cm), whereas another study comparing many pictures of his penis to the estimated measurements of other parts of his own body led to the conclusion of 8¾ inches (22cm). Holmes' longtime manager, Bill Amerson, that "I saw John measure himself several times, it was 13 and a half inches". Holmes' last wife, Laurie "Misty Dawn" Rose claims that John Holmes himself claimed 10 inches.
Veteran porn actress Dorothiea "Seka" Patton has claimed Holmes' penis was the biggest in the industry, though not all who had sex with him agree.
Regardless of the actual length of Holmes' penis, some people question whether he ever achieved full erections on movie sets. Veteran porn actress Annette Haven, for instance, recalled in the documentary Wadd: The Life and Times of John C. Holmes that "as the joke goes, if John ever became fully erect, he'd lose consciousness from lack of blood to the brain because his dick was that big. And it's true that his cock was never hard. It [having onscreen sex] was like doing it with a big, soft kind of luffa."
In 1979, Holmes and his younger half-brother, David Bowman, opened a combination locksmith service and antique shop called the Just Looking Emporium. However, Holmes' drug usage soon took precedence over business matters and the company went out of business before the year was over.
Later, after his 1982 murder trial and acquittal, Holmes began a business partnership with his manager Bill Amerson, as they founded and operated a production company Penquin Productions, where Holmes could be a triple-threat: writing, directing, and performing.
Despite the notoriety and infamy associated with Holmes, he also devoted much time to charities involving the environment. He was known to campaign and collect door-to-door for charities such as Save The Whales.
Holmes' career was promoted with a series of outrageous claims that he had made over the years (many made up on the spur of the moment by Holmes himself). The most outrageous ones include:
Holmes lost his virginity at the age of 6 to his Swedish nursemaid, Freida.
Holmes spent his childhood traveling the world with his rich aunt, who saw to it that he learned the fine arts, including "nude modern jazz ballet."
Holmes' penis was so big that he had to stop wearing underwear because "I was getting erections and snapping the elastic waist band 4 or 5 times a month." 
Holmes had sex with over 14,000 women.
Holmes had degrees in physical therapy, medicine, and political science from

UCLA

.
A

teenage

Holmes played the role of Eddie Haskell in the TV series

Leave it to Beaver

. (The character was portrayed by actor Ken Osmond, who bore a resemblance to Holmes).
Last Updated on Thursday, 19 November 2009 09:28